Current Affairs MCQ for UPSC Exams - 19 January 2023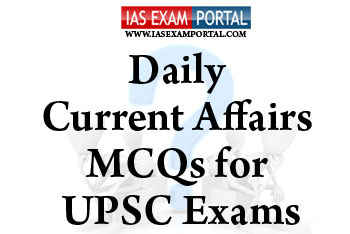 Current Affairs MCQ for UPSC Exams - 19 January 2023
Q.1) Consider the following statements: 
1. Greater Scaup is a migratory bird widely distributed across Arctic and Subarctic regions whereit mainly nests in coastal tundra habitats.
2. It belongs to the family of Anatidae.
3. The IUCN status of this species is Least Concern.
Which of the statements given above is/are correct?
(a) 1 and 3 only
(b) 2 and 3 only
(c) 1 and 2 only
(d) 1, 2 and 3
Q.2) Jabal an Nabi Shu'ayb is the highest point of which among the following country 
(a) Oman 
(b) Bahrin 
(c) Qatar 
(d) Yemen 
Q.3)  Consider the following statements regarding Doppler Weather Radars(DWRs):
1. A Doppler Radar is a specialized radar that uses Doppler effect to produce velocity data aboutobjects at a distance.
2. DWRs are used to locate precipitation, calculate its motion, and estimate its type.
3. Doppler effect refers to change in wave frequency during the relative motion between a wavesource and its observer.
Which of the statements given above is/are correct?
(a) 1 and 3 only
(b) 2 and 3 only
(c) 1, 2 and 3 
(d) 2 only
Q.4) Loktak lake is located in
(a) Manipur 
(b) Assam 
(c) West Bengal 
(d) Tripura 
Q.5) Consider the following statements regarding Giant Metrewave Radio Telescope:
1.It is an instrument for studying astrophysical phenomena, ranging from nearby Solar system to edge of observable Universe, at low radio frequencies.
2.It is operated by National Centre of Radio Astrophysics (NCRA), which is part of Tata Institute of Fundamental Research.
Which of the statements given above is/are correct?
(a) Neither 1 nor 2
(b) Both 1 and 2 
(c) 1 only
(d) 2 only
Answer : 1(D), 2(D), 3(C), 4(A), 5(B)