Current Affairs MCQ for UPSC Exams - 19 June 2019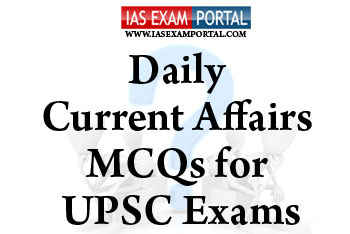 ---
Current Affairs MCQ for UPSC Exams - 19 June 2019
---
Q1. Consider the following statements :
1) The strait of Hormuz lies between Oman and Iran.
2) It links the Persian gulf in the south, Gulf of Oman in the north and Arabian sea beyond.
3) Almost 1/5th of the global oil supplies passes through the strait per day.
Which of the above statements are true ?
a) 1 & 2 only
b) 2 & 3 only
c) 1 & 3 only
d) all of the above
Q2. Which of the following countries controls the "Malacca strait" ?
1) Singapore
2) Malaysia
3) Indonesia
4) Thailand
5) Phillipines
a) 1,2 & 3 only
b) 3,4 & 5 only
c) 1,3 & 5 only
d) 2 & 4 only
Q3. Which of the following statements regarding National Productivity Council ( NPC) are true ?
1) NPC is national level organization to promote productivity culture in India. Established by the Ministry of entrepreneurship, Government of India in 1958.
2) NPC teams up with its clients to work out solutions towards accelerating productivity, enhancing competitiveness, increasing profits, augmenting safety and reliability and ensuring better quality.
3) The National Productivity Day is observed every year in India on February 12. Besides, February 12-18 is observed as National Productivity week throughout the country.
a) 1 & 2 only
b) 2 & 3 only
c) 1 & 3 only
d) all of the above
Q4. Which of the following are the possible advantages of the concept of "one nation one election "?
1) With elections being announced the MCC comes into force.This prevents the government from announcing any new schemes, make any new appointments, transfers or postings without the approval of the election commission.
2) One election every five years across all levels will lower the cost of elections to parties, and thus reduce their need for 'donations'.
3) Other than money, the other significant resource needed in abundance is the deployment of security forces. Holding simultaneous elections to the LokSabha and the state legislatures it will free up security forces, who are diverted from their core duties for each election.
a) 1 & 2 only
b) 2 & 3 only
c) 1 & 3 only
d) all of the above
Q5. According to the Geological Survey, a 400-foot thick iron layer was found 1,750 feet beneath the surface stretched over an area of 6-10 square kilometre.Other minerals such as gold, there were copper, nickel and chromium were also found at various levels of the mining. The discovery of the iron mine has opened up economic prospects for the country.
Which of the following countries discovered its first ever Iron ore mine recently ?
a) Myanmar
b) Nepal
c) Bangladesh
d) Srilanka
Answer:
1. (c) 2. (a) 3. (b) 4. (b) 5. (c)