Current Affairs MCQ for UPSC Exams - 19 November 2022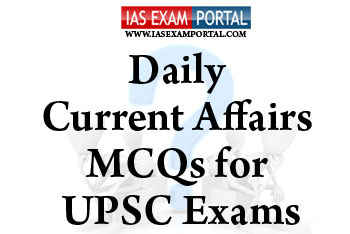 Current Affairs MCQ for UPSC Exams - 19 November 2022
Q.1) Consider the following statements: 
1. A cryptocurrency is a digital or virtual currency that is secured by cryptography, which makes it nearly impossible to counterfeit or double-spend.    
2. Many cryptocurrencies are decentralized networks based on blockchain technology - a distributed ledger enforced by a disparate network of computers.
3. A distributed ledger is a database that is consensually shared and synchronized across multiple sites, institutions, or geographies, accessible by multiple people.
Which of the statements given above is/are correct?
(a) 1 and 3 only
(b) 2 and 3 only
(c) 1 and 2 only
(d) 1, 2 and 3
Q.2) Baliyatra is the festival of 
(a) Andhra Pradesh 
(b) Assam 
(c) Telangana 
(d) Odisha 
Q.3) With reference to regarding National Population Register (NPR), consider the following statements: 
1. The NPR, first prepared in 2010 and updated in 2015 by collecting information.
2. According to Citizenship Rules 2003 is the first step towards compilation of a National Register of Citizens (NRC). 
3. The NPR is prepared under various provisions of the Citizenship Rules, 2003, framed under the Citizenship Act, 1955. 
Which of the statements given above is/are correct?
(a) 1 and 3 only
(b) 2 and 3 only
(c) 1, 2 and 3 
(d) 2 only
Q.4) Mastodon is an example of 
(a) Virus variant 
(b) Social networking site 
(c) An e-commerce company 
(d) Rocket engine developed by SpaceX
Q.5) Consider the following statements: 
1. A suborbital spaceflight refers to a height of around 100km from the Earth's surface.
2. Suborbital flights are known to be important for conducting tests of space missions, before final commercial missions take place.
Which of the statements given above is/are correct?
(a) Neither 1 nor 2
(b) Both 1 and 2 
(c) 1 only
(d) 2 only
Answer : 1(D), 2(D), 3(C), 4(B), 5(B)