Current Affairs MCQ for UPSC Exams - 19 September 2022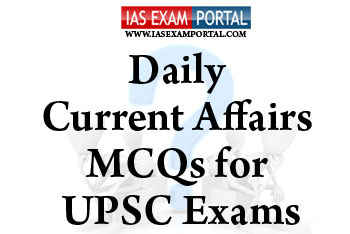 Current Affairs MCQ for UPSC Exams - 19 September 2022
Q.1) Consider the following statements: 
1. Windfall taxes are designed to tax the profits a company derives from an external, sometimes unprecedented event.
2. It is generally levied as one-off tax retrospectively over and above the normal rates of tax on such profits.
3. Its purpose is to redistribute excess profits in one area for the greater social good.
Which of the statements given above is/are correct?
(a) 1 and 3 only
(b) 2 and 3 only
(c) 1 and 2 only
(d) 1, 2 and 3
Q.2) Who has become the first Indian woman wrestler to win two medals at the World Championships? 
(a) VineshPhogat
(b) Babita Kumari
(c) Dutee Chand
(d) Priyanka Phogat
Q.3) Consider the following statements: 
1. SDGs localisation is translating the 2030 Agenda for Sustainable Development into local actions and impacts that contribute to global achievement of SDGs.
2. Localisation also relates both to how local and sub-national governments can support the achievement of the SDGs through bottom up action.
3. Localization of Sustainable Development Goals (LSDG) becomes significant for India as about 65% of India's population lives in rural areas.
Which of the statements given above is/are correct?
(a) 1 and 3 only
(b) 2 and 3 only
(c) 1, 2 and 3 
(d) 2 only
Q.4) World Hindi Day is observed on 
(a) January 10
(b) March 11
(c) April 12
(d) September 14
Q.5) Consider the following statements:
1. Train collision avoidance system is an indigenously developed cost effective technology for automatic train protection by Ministry of railways.
2. Long Term Evolution in Indian railways will provide secure and reliable voice, video and data communication services for operational and security applications of railways.
Which of the statements given above is/are correct?
(a) Neither 1 nor 2
(b) Both 1 and 2 
(c) 1 only
(d) 2 only