Current Affairs MCQ for UPSC Exams - 20 August 2021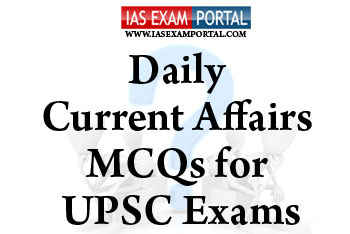 Current Affairs MCQ for UPSC Exams - 20 August 2021
Q.1) With reference to the Draft Electricity (Late Payment Surcharge) Amendment Rules 2021, consider the following statements:
1. As per this rule, the power generating companies are being given an option to sell power to third parties and recover their costs
2. It added that the claim will be retained on payment of fixed charges or capacity charges from the distribution licensee, after giving a notice of at least 15 days to the distribution licensee.
3. The claim, if any, shall be reconciled on an annual basis and shall be limited to only under recovery of the fixed charges or capacity charges.
Which of the statements given above is/are correct?
(a) 1 and 3 only
(b) 2 and 3 only
(c) 1 and 2 only
(d) 1, 2 and 3 only
Q.2) Recently seen in news Platform for Regulated Entities for Integrated Supervision and Monitoring, it has been launched by
(a) Niti Aayog 
(b) Ministry of Finance 
(c) Reserve Bank of India 
(d) SEBI 
Q.3) With reference to the term Swaption Deal, consider the following statements:
1. An Interest Rate Swaption is an option on interest rate swaps.
2. A swaption gives the buyer the right, and allsows the obligation, to enter into an interest rate swap.
3.  It aim is to provide risk management in the country's interest-rate derivatives market that needs to introduce world-class solutions to draw more overseas funds into local debt assets.
Which of the statements given above is/are correct?
(a) 1 and 3 only
(b) 2 and 3 only
(c) 1, 2 and 3 only
(d) 2 only
Q.4) Recently seen in news, a nine-foot-tall bronze equestrian statue was vandalised in Lahore Fort, relating to which of the following personalities
(a) Sher Singh 
(b) Duleep Singh 
(c) Kharak Singh 
(d) Maharaja Ranjit Singh
Q.5) With reference to the nuclear fusion technology, consider the following statements:
1.It is defined as the combining of several small nuclei into one large nucleus with the subsequent release of huge amounts of energy. 
2.Nuclear fusion powers our sun and harnessing this fusion energy could provide an unlimited amount of renewable energy.
Which of the statements given above is/are correct?
(a) Neither 1 nor 2
(b) Both 1 and 2 
(c) 1 only
(d) 2 only