Current Affairs MCQ for UPSC Exams - 20 December 2020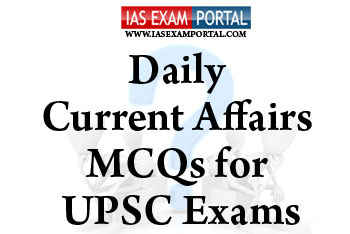 ---
Current Affairs MCQ for UPSC Exams - 20 December 2020
---
Q.1) With reference to the Project Readiness Financing facility consider the following statements. 
1. It is initiated between Asian Development Bank and Government of India. 
2. PRF document describes the smooth transition from preparation to implementation of the project to minimizecontracting delays and speed up the initial disbursements.
3. This is ADB's second PRF facility for a north eastern state.
Which of the statements given above is/are correct?
(a) 1 and 3 only
(b) 2 and 3 only
(c) 1 and 2 only
(d) 2 only
Q.2) Justice D.K. Jain committee has been associated with 
(a) Sabarimala Case
(b) Isro Spy Case 
(c) Nirbhaya Case
(d) Repealing Section 377 Case
Q.3) Consider the following statements regarding Advanced Towed Artillery Gun System:
1. The Advanced Towed Artillery Gun System (ATAGS) is a towed 155 mm/52 calibre howitzer.
2. ATAGS has greater than 95% indigenous content. 
3. ATAGS set a world record for the longest unassisted projectile range of 48 kilometres.
Which of the statements given above is/are correct?
(a) 1 and 3 only
(b) 2 and 3 only
(c) 1, 2 and 3 only
(d) 2 only
Q.4) On which day Great Conjunction will became visible across the world
(a) 20th December 
(b) 21st December 
(c) 22nd December 
(d) 25th December 
Q.5) Consider the following statements regarding Ease of Doing Business Ranking:
1. Ease of Doing Business is published by World Bank annually.
2. Ease of doing business is an aggregate figure that includes different parameters which define the ease of doing business in a country.
Which of the statements given above is/are correct?
(a) Neither 1 nor 2
(b) Both 1 and 2 
(c) 1 only
(d) 2 only