Current Affairs MCQ for UPSC Exams - 20 September 2021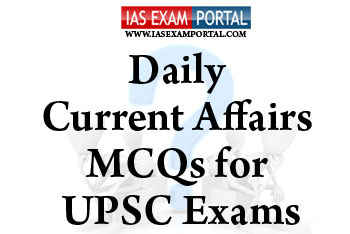 Current Affairs MCQ for UPSC Exams - 20 September 2021
Q.1) With reference to the Refresh Rate system, consider the following statements:
1. It means when a display the refresh rate changes from 10Hz to 120Hz.
2. The higher the refresh rate, the more times per second the screen is refreshing its pixels.
3. Refresh rate means how many times the image on a screen can be updated or "refreshed" every second.
Which of the statements given above is/are correct?
(a) 1 and 3 only
(b) 2 and 3 only
(c) 1 and 2 only
(d) 1, 2 and 3 only
Q.2) Which among the following country has been recently suspended by theInternational Olympic Committee?
(a) Afghanistan 
(b) Somalia 
(c) Angola 
(d) North Korea 
Q.3) With reference to the MusQan initiative, consider the following statements:
1. It has been launched by the Ministry of Health and Family Welfare.
2. It targets children below 12 years of age.
3. It doesn't work under the existing National Quality Assurance Standards framework.
Which of the statements given above is/are correct?
(a) 1 and 3 only
(b) 2 and 3 only
(c) 1, 2 and 3 only
(d) 1 and 2 only
Q.4) ICP Petrapole connects between 
(a) India-Bangladesh 
(b) India-Nepal 
(c) India-Bhutan 
(d) India-Myanmar 

Q.5) With reference to the Rail Kaushal Vikas Yojana, consider the following statements:
1. It aims to impart training skills to the youth in various trades to bring qualitative improvement.
2.Candidates who are 10th passed and between 18-35 years shall be eligible to apply.
Which of the statements given above is/are correct?
(a) Neither 1 nor 2
(b) Both 1 and 2 
(c) 1 only
(d) 2 only