Current Affairs MCQ for UPSC Exams - 21 April 2020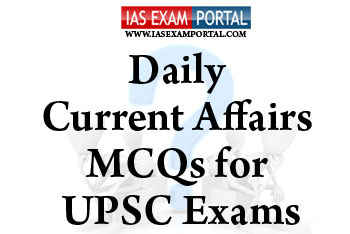 ---
Current Affairs MCQ for UPSC Exams - 21 April 2020
---
Q1 Finance minister recently appreciated New Development Bank's ( NDB )1bn dollar emergency assistance to India to combat COVID-19 pandemic. Which of the following statements regarding the NDB stands true ?
1) The NDB was established by the BRICS countries -Brazil, Russia, India, China and South Africa aftermath the global recession period of 2008-2009.
2) The purpose of the Bank is to mobilise resources for infrastructure and sustainable development projects in BRICS and other emerging market economies and developing countries to complement the existing efforts of multilateral and regional financial institutions for global growth and development.
3) The bank proposes to be different from other multilateral funding institutions in its focus, speed and risk appetite, and earmark as much as 60 percent of its lending for renewable energy.
Options :
a) 1 & 2 only
b) 2 & 3 only
c) 1 & 3 only
d) all the above
Q2 Consider the following pairs of tribes in India and their corresponding habitant places :
1) Dhanka : Gujarat
2) Agariya : Himachal Pradesh
3) Meda : Andhra Pradesh
4) Aimol : Manipur
5) Apatanis : Arunachal Pradesh
Options :
a) 1,2& 3 only
b) 2,3 & 5 only
c) 1,4 & 5 only
d) all the above
Q3 Surplus rice available with Food Corporation of India (FCI) would be converted to ethanol to ensure adequate availability of alcohol-based sanitizers in the country.National Biofuel Coordination Committee approved this decision as per the National Policy on Biofuels, 2018.Which of the following statements with respect to the policy stands true ?
1) The National Policy on Biofuels, 2018, allows conversion of surplus food grains, in case the Ministry of Agriculture and Farmers Welfare anticipates its over supply during a crop-year.
2) The Policy categorises biofuels as "Basic Biofuels" viz. First Generation (1G) bioethanol & biodiesel and "Advanced Biofuels" - second Generation (2G) ethanol, Municipal Solid Waste (MSW) to drop-in fuels, third Generation (3G) biofuels, bio-CNG etc. to enable extension of appropriate financial and fiscal incentives under each category.
3) Prolonged reuse of Cooking Oil for preparing food, particularly in deep-frying is a potential health hazard and can lead to many diseases. Used Cooking Oil is a potential feedstock for biodiesel and its use for making biodiesel will prevent diversion of used cooking oil in the food industry.
Options :
a) 1 & 2 only
b) 2 & 3 only
c) 1 & 3 only
d) all the above
Q4 Which of the following statements regarding the Vidya-Daan programme stands true ?
1) The Vidya-Daan platform has been created with a vision to provide teachers with multiple types of resources to help them in teaching.
2) It will contain educational content and resources such as lesson plans, explanation and experiential content, question banks, marking scheme rubrics for Class 10 etc.
3) The academic content on the Vidya-Daan platform can be accessed and used by urban teachers at no cost and the programme is launched by UGC.
Options :
a) 1 & 2 only
b) 2 & 3 only
c) 1 & 3 only
d) all the above
Q5 "Sanjhi Art" recently in news is an art form...................................
CLICK HERE FOR ANSWERS (Only for Course Members)
ANSWER.....................................