Current Affairs MCQ for UPSC Exams - 21 December 2021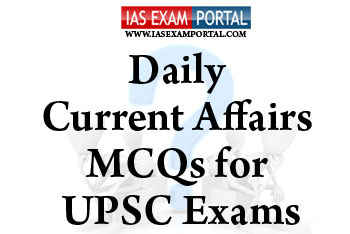 Current Affairs MCQ for UPSC Exams - 21 December 2021
Q.1) Match the following pairs:
    Species name:              IUCN status
1. Finn's weaver                 Endangered
2. Lesser Florican               Critically Endangered
3. Green Imperial pigeon    Nearly Threatened
Which of the pair/s given above is/are correct?
(a) 3 only
(b) 2 and 3 only
(c) 1 and 2 only
(d) 1, 2 and 3
Q.2) The Capital of the Cyprus is called
(a) Kyrenia
(b) Limassol 
(c)Paphos
(d) Nicosia
Q.3) With reference to regarding Prashasan Gaon Ki Aur Campaign program consider the following statements: 
1. It is a nationwide 'Good Governance Week' campaign, under Ministry of Personnel, PublicGrievances and Pensions.
2. It is launched for the purpose of grievance redressal and to take good administration to the villages.
3. Under this program, every District Collector will be presenting one successful good governance practice of the districtand one successfully redressed Public Grievance case on the portal.
Which of the statements given above is/are correct?
(a) 1 and 3 only
(b) 2 and 3 only
(c) 1, 2 and 3 
(d) 2 only
Q.4) Which among the following country has recently decided to withdrawn censorship of films in cinemas?
(a) UAE
(b) Oman 
(c) Bahrain 
(d) Kuwait 
Q.5) Consider the following statements regarding Project P15B:
1. It is the latest destroyer design currently under construction for the Indian Navy.
2.These ships have been designed by the Indian Navy's Directorate of Naval Design.
Which of the statements given above is/are correct?
(a) Neither 1 nor 2
(b) Both 1 and 2 
(c) 1 only
(d) 2 only