Current Affairs MCQ for UPSC Exams - 21 March 2021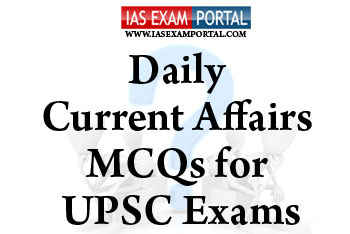 Current Affairs MCQ for UPSC Exams - 21 March 2021
Q.1) With reference to the Gram Ujala scheme, consider the following statements:
1. Under the programme, 7 watt and 12-watt LED bulbs will be given.
2. Under this scheme the price per LED bulb is an affordable rate of Rs.15.
3. The above scheme is a part of United Nations' Clean Development Mechanism.
Which of the statements given above is/are correct?
(a) 1 and 3 only
(b) 2 and 3 only
(c) 1 and 2 only
(d) 2 only
Q.2) World Water day is observed on 
(a) March 15
(b) March 18
(c) March 20
(d) March 22
Q.3) With reference to the diatom test, consider the following statements:
1. The test entails findings if there are diatoms in the body being tested. 
2. Diatom analysis is considered positive only when the number of diatoms recovered from the body is more than a minimal established limit.
3. Diatoms are photosynthesizing algae which are found in almost every aquatic environment including fresh and marine waters, soils, in fact, almost anywhere moist.
Which of the statements given above is/are correct?
(a) 1 and 3 only
(b) 2 and 3 only
(c) 1, 2 and 3 only
(d) 2 only
Q.4) With reference to the amendment of Mines and Mineral (Development and Regulation) Act, consider the following statements:
1. The Act empowers the central government to reserve any mine (other than coal, lignite, and atomic minerals) to be leased through an auction for a particular end-use (such as iron ore mine for a steel plant).  
2. Under the Act, states conduct the auction of mineral concessions (other than coal, lignite, and atomic minerals).  
Which of the statements given above is/are correct?
(a) Neither 1 nor 2
(b) Both 1 and 2 
(c) 1 only
(d) 2 only
Q.5) With reference to the Mujib Jacket, consider the following statements:
1.It is famed as the signature garment worn by Bangabandhu Sheikh Mujibur Rahman.
2.The black Mujib Jackets have been designed with 6 buttons, two pockets on the lower half and a front pocket on the left.
Which of the statements given above is/are correct?
(a) Neither 1 nor 2
(b) Both 1 and 2 
(c) 1 only
(d) 2 only