Current Affairs MCQ for UPSC Exams - 22 April 2020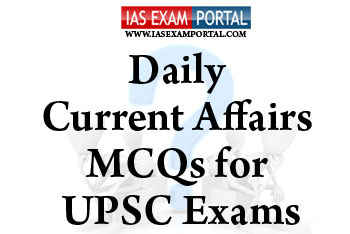 ---
Current Affairs MCQ for UPSC Exams - 22 April 2020
---
Q1 Which of the following statements regarding the steps taken by central government to decongest wholesale agricultural markets and to boost supply chains during the COVID lockdown period stands true ?
1) The National Agriculture Market, e-NAM portal has been revamped by adding two new modules - warehouse-based trading module and Farmer Producer Organizations, FPOs module.
2) The warehouse-based trading module enables farmers to sell their produce from Warehousing Development and Regulatory Authority.
3) The FPO trading module enables FPOs to upload their produce from collection centres with picture and quality parameter for on-line bidding without physically reaching the mandis.
Options :
a) 1 & 2 only
b) 2 & 3 only
c) 1 & 3 only
d) all the above
Q2 Consider the following pairs of thermal power plants and their location states :
1) Kayamkulam :Tamilnadu
2) Thumbli : Rajasthan
3) Kudatini : Karnataka
4) Vindhyanchal :Odisha
5) Tiroda : Maharashtra
Which of the above pairs are correctly matched ?
Options :
a) 1,2 & 3 only
b) 3,4 & 5 only
c) 1,2 & 5 only
d) 2,3 & 5 only
Q3 With respect to recently developed magnetic Random Access Memory (RAM) which uses spintronic technology, which of the following statements stands true ?
1) Magnetic RAMs in which data are represented as spin of electrons, promise better storage capabilities than conventional charge-based RAM but have comparatively slower processing times.
2) A device using spintronic technology utilises the spin of the electrons to transmit and process information, unlike normal electronic devices that are driven by electron charges.
3) Harnessing the spin of electrons to be manipulated from the magnetic state leads to what is known as Spin-Transfer Torque-Magnetic Random Access Memory (STT-MRAM).
Options :
a) 1 & 2 only
b) 2 & 3 only
c) 1 & 3 only
d) all the above
Q4 India has dropped two places on a global press freedom index to be ranked 142nd out of 180 countries in the annual Reporters Without Borders analysis released recently. Which of the following statements regarding the same stands true ?
1) Paris-based Reporters Sans Frontieres (RSF), or Reporters Without Borders, is a non-profit organisation that works to document and combat attacks on journalists around the world.
2) South Asia in general features poorly on the index, with Pakistan dropping three places to 145, and Bangladesh dropping one place to 151.
3) Sweden is ranked first in the Index for the fourth year running. China at 177th position is just three places above North Korea, which is at 180th.
Options :
a) 1 & 2 only
b) 2 & 3 only
c) 1 & 3 only
d) all the above
Q5 Kandhamal tribes recently in news,are................................
CLICK HERE FOR ANSWERS (Only for Course Members)
ANSWER.............................