Current Affairs MCQ for UPSC Exams - 22 December 2019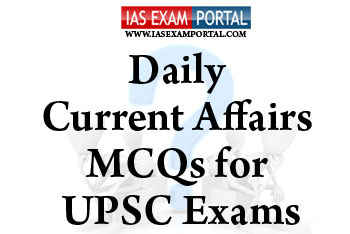 ---
Current Affairs MCQ for UPSC Exams - 22 December 2019
---
Q1. Consider the following statements with respect to SAM (sever acute malnutrition) :
1) Children with severe acute malnutrition have very low weight for their height and severe muscle wasting.
2) Severe acute malnutrition is a major cause of death in children under 5, and its prevention and treatment are critical to child survival and development.
3) The use of RUTF (Ready-to-use therapeutic food has transformed the treatment of severe acute malnutrition, in part, because it allows those children without medical complications to be cured right in their own homes and communities.
Which of the above statements are true ?
Options :
a) 1 & 2 only
b) 2 & 3 only
c) 1 & 3 only
d) all the above
Q2. Which of the following states In India are arranged with respect to their decreasing order of sex ratios :
a) Rajasthan,Maharashtra,Gujarat
b) Chattisgarh,Assam,West Bengal
c) Bihar ,Gujarat,Punjab
d) Madhya pradesh, Gujarath,Nagaland
Q3. The National Accreditation Board for Certification Bodies (NABCB), India's national accreditation body, has secured equivalence for its accreditation programme for Occupational Health and Safety Management Systems (OHSMS) Certification Bodies in Asia- Pacific region. Which of the following are its possible impacts :
1) Any industry carrying ISO 45001 certificate with NABCB logo will be recognized in the Asia Pacific region.
2) All products with NABCB accreditation will get GI tag automatically under the Geographical Indications of Goods (Registration & Protection)Act.
3) NABCB can facilitate export of Indian goods into the world market by attesting that these are certified as per international standards by competent certifying bodies.
Options :
a) 1 & 2 only
b) 2 & 3 only
c) 1 & 3 only
d) all the above
Q4. Which of the following statements regarding NITI Aayog's recently released SGD India index are true ?
1) The Index supplements NITI Aayog's continuous efforts towards encouraging evidence-based policy making by supporting States/UTs to benchmark their progress, identifying priority areas and share best practices.
2) The SDG India Index is available via an interactive dashboard which has cross-sectoral relevance across policy, civil society, business and academia
3) As per the SDG India index score Maharashtra,Gujarat& Goa are the best performing states based on the criterias.
Options :
a) 1 & 2 only
b) 2 & 3 only
c) 1 & 3 only
d) all the above
Q5. The Great Sunda islands lies between which of the following seas in the Indian ocean :
a) Java Sea and Banda sea
b) Timor sea and Banda sea
c) Java sea and Timor sea
d) Banda sea and celebes sea

Answer :
1. (d) 2. (b) 3. (c) 4. (a) 5.(c)