Current Affairs MCQ for UPSC Exams - 22 December 2021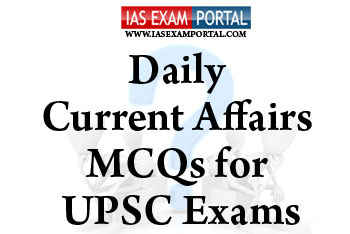 Current Affairs MCQ for UPSC Exams - 22 December 2021
Q.1) With reference to the Pillar-II model rules for domestic implementation, consider the following statements: 
1. The rules will assist countries to bring GloBE rules into domestic legislation in 2022.
2. Two-Pillar solution was agreed in 2021 by 137 countries.
3. Rules create a "top-up tax" to be applied on profits in any jurisdiction whenever the effective tax rate is above minimum 15% rate.
Which of the statements given above is/are correct?
(a) 1 and 3 only
(b) 2 and 3 only
(c) 1 and 2 only
(d) 1, 2 and 3
Q.2) Which among the following is called as third pole of the world? 
(a) Himalayan Mountains
(b) KarakoramMountains
(c) Carpathian Mountains
(d) AlpsMountains
Q.3) With reference to regarding Canine Parvovirus, consider the following statements: 
1. It is a highly contagious viral disease that can also be life-threatening in puppies and dogs.
2. It spreads through direct contact with an infected dog or by indirect contact with a contaminated object.
3. Parvovirus has no cure and inoculating a puppy or a dog gives them a fighting chance against theinfection.
Which of the statements given above is/are correct?
(a) 1 and 3 only
(b) 2 and 3 only
(c) 1, 2 and 3 
(d) 2 only
Q.4) The loan amount given to India under Sustainable Urban Development program is
(a)USD 350 million
(b) USD 250 million
(c) USD 300 million
(d) USD 500 million
Q.5) Consider the following statements regarding Killer robots:
1.Killer robots include machines that can make their own decisions with little to no human involvement.
2.It include drones, which are manned remotely by pilots.
Which of the statements given above is/are correct?
(a) Neither 1 nor 2
(b) Both 1 and 2 
(c) 1 only
(d) 2 only