Current Affairs MCQ for UPSC Exams - 22 July 2022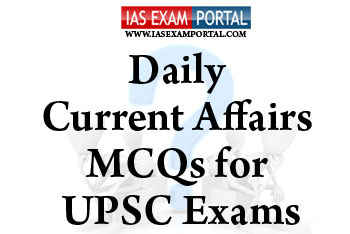 Current Affairs MCQ for UPSC Exams - 22 July 2022
Q.1) Q.1) Consider the following statements: 
1. He is best known for his work on quantum mechanics in the early 1920s.    
2. He was a Fellow of the Royal Society,
3. He was awarded India's second highest civilian award, the Padma Vibhushan, in 1954 by the Government of India.
The following above statements classifies about which among the following personalities given below: 
(a) C. V. Raman
(b) Meghnad Saha
(c) Prafulla Chandra Ray
(d) Satyendra Nath Bose
Q.2) Who has been sworn as 15th President of India? 
(a) Yashwant Sinha
(b) Jagdeep Dhankhar
(c) Margaret Alva
(d) DroupadiMurmu
Q.3) With reference to regarding Agriculture Land Price Index, consider the following statements: 
1. It will track the price movements in the marketplace.
2. It will record and present quality-controlled data on prices of agricultural land in the country.
3. It help in signalling converting agricultural land into real estate
Which of the statements given above is/are correct?
(a) 1 and 3 only
(b) 2 and 3 only
(c) 1, 2 and 3 
(d) 2 only
Q.4) India's scientific expedition to Antarctica began in 
(a)1981
(b) 1985
(c) 1979
(d) 1992
Q.5) With reference to regarding Raisina Dialogue, consider the following statements: 
1. It is hosted by the Observer Research Foundation.
2. It has emerged as India's flagship conference on geopolitics and geo-economics.
Which of the statements given above is/are correct?
(a) Neither 1 nor 2
(b) Both 1 and 2 
(c) 1 only
(d) 2 only