Current Affairs MCQ for UPSC Exams - 22 June 2022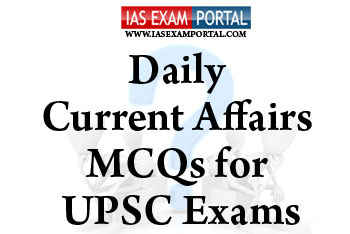 Current Affairs MCQ for UPSC Exams - 22 June 2022
Q.1) Consider the following statements: 
1. Pink Bollworm (PBW) is an insect known as pest of cotton.
2. The adult female PBW lays eggs on cotton balls.
3. PBW is resistant to first generation transgenic BT Cotton, and insecticides.
Which of the statements given above is/are correct?
(a) 1 and 3 only
(b) 2 and 3 only
(c) 1 and 2 only
(d) 1, 2 and 3
Q.2) Who has been recently elected as the President of Columbia?
(a) Sergio Fajardo
(b) Federico Gutiérrez
(c) Alvaro Uribe Velez
(d) Gustavo Petro
Q.3) With reference to regarding National Green Tribunal, consider the following statements: 
1. It is a statutory and quasi-judicial body.
2. At present the National Green Tribunal has a presence in five zones. 
3. It is bound by the Code of Civil Procedure, 1908 as well as Indian Evidence Act, 1872.
Which of the statements given above is/are correct?
(a) 1 and 2 only
(b) 2 and 3 only
(c) 1, 2 and 3 
(d) 2 only
Q.4) Robots to clean septic tanks has been developed by 
(a) IIT Madras 
(b) IIT Bombay 
(c) DRDO 
(d) IIT Kanpur 
Q.5) Recently in news, an initiative called Prakriti mascot. It has been launched by 
(a) Ministry of Finance 
(b) Ministry of Agriculture 
(c) Ministry of Jal Shakti 
(d) Ministry of Environment, Forest & Climate Change