Current Affairs MCQ for UPSC Exams - 22 September 2022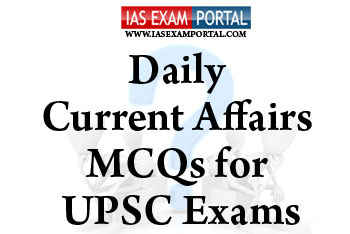 Current Affairs MCQ for UPSC Exams - 22 September 2022
Q.1) Consider the following statements regarding NASA's DART Mission: 
1. It is the world's first full-scale mission to test technology for defending Earth against potential asteroid or comet hazards.
Nano alloys are alloys with one metal forming core and another stays on surface as a shell.
2. The mission will test a method that could be used to redirect asteroids that pose a threat to our planet.
3. It was launched on a SpaceX Falcon 9 rocket from Space Launch Complex 4 East at Vandenberg Space Force Base in California.
Which of the statements given above is/are correct?
(a) 1 and 3 only
(b) 2 and 3 only
(c) 1 and 2 only
(d) 1, 2 and 3
Q.2) Which among the following has launched a new global database named "I-amilia" to identify missing persons through family DNA and help the police solve cold cases in member countries?
(a) United Nations Office on Drugs and Crime 
(b) European Police Office
(c) Interpol
(d) Police Community of the Americas
Q.3) With reference to regarding Lavender cultivation, consider the following statements: 
1. It is an evergreen shrub crop native to Europe.
2. Its oil has antibacterial and antifungal effects.
3. The lavender crop is cultivated in Jammu and Kashmir. 
Which of the statements given above is/are correct?
(a) 1 and 3 only
(b) 2 and 3 only
(c) 1, 2 and 3 
(d) 2 only
Q.4) With reference to the Vaigai river, which of the following statements is not correct?
(a) Vaigai basin is bounded by the Varusanadu Hills, the Andipatti Hills, the Cardamom Hills and the Palani Hills on the West and by the Palk Strait and Palk Bay on the East.
(b) Vaigai River rises near Kottaimalai in the Madurai district.
(c) It traverses a path of about 258 Km.
(d) The ib, the Ong and the Tel are some of the tributaries of the Vaigai river.
Q.5) With reference to regarding Angiotensin converting enzyme 2, consider the following statements:
1. It is a "receptor", protein that provides the entry point for the coronavirus into human cells.
2. According to a recent study the membrane-bound form of ACE2 is essential for enabling infection with SARS-CoV-2.
Which of the statements given above is/are correct?
(a) Neither 1 nor 2
(b) Both 1 and 2 
(c) 1 only
(d) 2 only