Current Affairs MCQ for UPSC Exams - 23 December 2019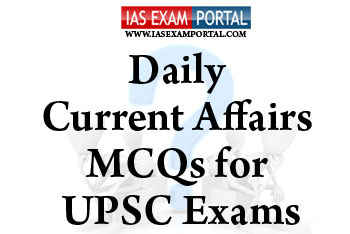 ---
Current Affairs MCQ for UPSC Exams - 23 December 2019
---
Q1. Which of the following statements regarding the recently published Global Diseases Burden report stands true ?
1) Around 9 million fire incidents and 1.2 lakh deaths were recorded across the globe that year.
2) India, along with seven countries, including Pakistan, accounted for over half the deaths due to fires.
3) The study identified gender violence as a cause for the high death rate in India; it also cited a study from Karnataka that showed synthetic saris worn by women was a cause.
Options :
a) 1 & 2 only 
b) 2 & 3 only 
c) 1 & 3 only
d) all the above
Q2. Which of the following statements regarding the liquidity adjustment measures taken by RBI stands true ?
1) The RBI uses the repo rate for short-term liquidity management and to smoothen interest rates in the call/money market.
2) LAF helps in managing a shortterm liquidity situation resulting from the large and volatile capital flows.
3) An increase in the CRR results in an increase in the amount of money that banks have to maintain with the RBI as a percentage of their deposits.
4) In times of excess visible liquidity, the call rates hover around the reverse repo rate, whereas in times of tight liquidity, the call rate will hover around the repo rate.
Options:
a) 1,2& 3 only 
b) 2,3 & 4 only
c) 1,3 & 4 only 
d) 1,2 & 4 only 
Q3. Which of the following statements regarding the WEF (World Economic Forum's) annual meeting stands true ?
1) The WEF has said the 2020 meeting aims to give a concrete meaning to "stakeholder capitalism", assist governments and international institutions in tracking progress towards the Paris Agreement and the Sustainable Development Goals, and facilitate discussions on technology and trade governance.
2) WEF has selected 'Stakeholders for a Cohesive and Sustainable World' as the theme for its 2020 annual meeting, which will bring together 3,000 global leaders.
3) WEF meeting is to be held at its headquarters in Hague, Netherlands.
Options :
a) 1 & 2 only 
b) 2 & 3 only 
c) 1 & 3 only 
d) all the above
Q4. With respect to India's foreign policy in Central Asia, which of the following statements stands true ?
1) India is committed to building rail route, from Chabahar to Zahedan on the Iran-Afghan border, and Uzbekistan is keen to join the transit trade agreement signed by India, Afghanistan and Iran.
2)India also wants to connect Central Asia via INSTC and through Ashgabat agreement that excludes Oman.
3)The rail route to Herat, if extended to Kabul, would also link to India's "air corridor", allowing trade, especially dry fruits and agricultural produce to travel along the routes from India to Central Asia and back in much shorter time.
Options :
a) 1 & 2 only
b) 2 & 3 only 
c) 1 & 3 only
d) all the above
Q5. The Galapagos islands recently in news, considered one of the world's foremost destinations for wildlife-viewing. It is located in the Pacific islands and is an archipelago of which of the following countries ?
a) Columbia
b) Equador
c) Peru
d) Mexico
Answer :
1. (d) 2. (b) 3. (a) 4. (c) 5.(b)