Current Affairs MCQ for UPSC Exams - 23 January 2023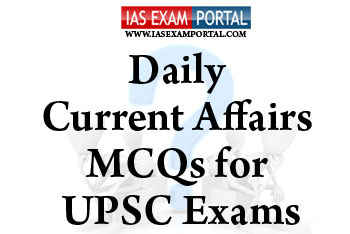 Current Affairs MCQ for UPSC Exams - 23 January 2023
Q.1) Consider the following statements regarding South Asian Association for Regional Cooperation:
1. It is an economic and political organization which was established in 1985.
2. The last biennial summit took place in Kathmandu in 2014.
3. The organisation headquarter is located in Kathmandu.
Which of the statements given above is/are correct?
(a) 1 and 3 only
(b) 2 and 3 only
(c) 1 and 2 only
(d) 1, 2 and 3
Q.2) Haiderpur wetland is located in 
(a) Assam 
(b) Madhya Pradesh 
(c) Bihar 
(d) Uttar Pradesh 
Q.3) Consider the following statements: 
1. Caste Census is the caste-wise tabulation of population in the census exercise.
2. Caste was included as a parameter in Census data only during the 1931 Census.
3. Ever since independence, the Census had only the data related to SC and ST populations.
Which of the statements given above is/are correct?
(a) 1 and 3 only
(b) 2 and 3 only
(c) 1, 2 and 3 
(d) 2 only
Q.4) ExerciseCyclone – Iis the first joint exercise between the special forces of the Indian Army and
(a) Egyptian Army
(b) French Army 
(c) Japan Army 
(d) Australian Army 
Q.5) Consider the following statements regarding Basel Accord:
1.It refers to a set of banking supervision regulations set by the Basel Committee on Banking Supervision.
2.The Basel III regulations were created afterthe financial crisis and strengthened theminimum capital requirements outlined inBasel I and II.
Which of the statements given above is/are correct?
(a) Neither 1 nor 2
(b) Both 1 and 2 
(c) 1 only
(d) 2 only
Answer : 1(D), 2(D), 3(C), 4(A), 5(B)