Current Affairs MCQ for UPSC Exams - 23 July 2020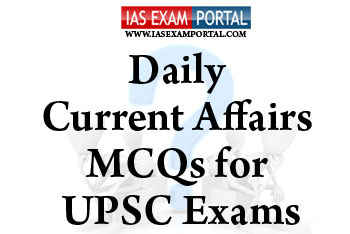 ---
Current Affairs MCQ for UPSC Exams - 23 July 2020
---
Q1. With respect to the social security code bill 2019 recently in new, which of the following statements stands true ?
1) The Code will merge eight exiting labour laws includingEmployees' Compensation Act, 1923; Employees' State Insurance Act, 1948, Employees' Provident Funds and Miscellaneous Provisions Act, 1952; Maternity Benefit Act, 1961.
2) The bill seeks to establish a social security fund and tap the corporate social responsibility fund to offer unorganized sector workers medical, pension, death and disability benefits via the employee's state insurance corporation.
3)  It will empower the state governments to exempt select establishments from all or any of the provisions of the code and makes Aadhaar mandatory for availing benefits under various social security schemes.
Options :
a) 1 & 2 only
b) 2 & 3 only
c) 1 & 3 only
d) all the above
Q2. Consider the following pairs of gardens in India and their respective locations :
1) Hanging gardens : Ahmedabad
2) Buddha Jayantipark : Bengaluru
3) Alfred park : Allahabad
4) Rock garden : Chandigarh
5) Mughal gardens : New Delhi
Which of the above pairs are correctly matched ?
Options :
a) 1,2& 3only
b) 3,4 & 5 only
c) 1,3 & 5 only
d) 2,4 & 5 only
Q3. Consider the following statements regarding the powers of both state and central governmentswith respect to disaster management :
1) According to the 15Th finance commission, the opaqueness and clutter in the demarcation of powers of the central and state governments under the Constitution and other Acts posed a hindrance to India's pandemic response.
2) While the newer Act gives powers to all levels of governments from the Centre to districts to set up disaster management authorities, more power rests with the Centre in terms of policy.
3)  Older legislation demarcates powers of the Centre and state governments in their response to an epidemic. It grants states powers over laws governing people within its jurisdiction while the Centre is empowered to dictate terms on ports of entry.
Which of the above statements stands true ?
Options :
a) 1 & 2only
b) 2 & 3 only
c) 1 & 3 only
d) all the above
Q4. The Ministry of Road Transport and Highways has sought suggestions from the general public and stakeholders for amendment in Central Motor Vehicle Rules 1979 for inclusion of Hydrogen enriched CNG as automotive fuel recently. Which of the following statements regarding the same stands true ?
1) HCNG allows customers early hydrogen deployment with nearly commercial technology. It is being treated as a first step towards a future hydrogen economy.
2) Hydrogen is an excellent additive to improve the combustion of hydrocarbon fuel due to its low ignition energy, high reactivity, diffusivity and burning velocity.
3) The rapid increase in the emission of greenhouse gases and very strict environmental legislation are major hindrances for the usage of hydrogen in fuel cells and internal combustion engines.
Options :
a) 1 & 2only
b) 2 & 3 only
c) 1 & 3 only
d) all the above
Q5. Which of the following countries has become the last former Soviet republic to establish formal ties with the trade body, WTO and was granted observer status recently?
a) Uzbekistan
b) Tajikistan
c) Turkmenistan
d) Afghanistan