Current Affairs MCQ for UPSC Exams - 23 October 2019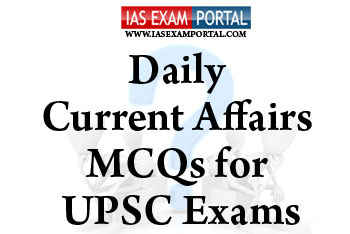 ---
Current Affairs MCQ for UPSC Exams - 23 October 2019
---
Q1. Researchers have developed a new catalyst that can help turn carbon dioxide from car exhaust pipes and other sources into fuels like natural gas or propane.
Which of the following statements regarding the same stands true ?
1) While not a climate cure-all, the advance could significantly reduce the near-term impact on global warming.
2) Previous efforts to convert CO2 to fuel involved a two-step process. The first step reduces CO2 to carbon monoxide, then the second combines the CO with hydrogen to make hydrocarbon fuels.
3) The simplest of these fuels is methane, but other fuels that can be produced include ethane, propane and butane.
a) 1 & 2 only
b) 2 & 3 only
c) 1 & 3 only
d) all of the above
Q2. Arrange the following processes in carbon cycle in the correct order of their occurrence in nature :
A) Respiration
B) Release of Carbon dioxide
C) Fossil fuel formation
D) Photosynthesis
a) ABCD
b) BACD
c) DABC
d) DBCA
Q3. Consider the following statements :
1) Cyber security is a shared responsibility. While IT teams must be proactive in their response to cyber threats, knowledgeable employees and leadership teams pave the way for organisations to better detect, protect and respond.
2) According to global cyber security studies, main triggers for security updates -- beyond changes to overall security posture are technology and product developments, compliance and regulation requirements, and growing awareness of new attacks.
3) More than 70% per cent of Indian organisations regularly make significant changes to their cyber security approach, and 88 per cent intend to make changes to security approach in the next 6-24 months.
Which of the above statements are true ?
a) 1 & 2 only
b) 2 & 3 only
c) 1 & 3 only
d) all of the above
Q4. "HunarHaat" has become a "credible brand" to fulfil Prime Minister's commitment to "Make in India", "Stand up India"and "Start up India".
Which of the following statements regarding the scheme stands true ?
1) The employment oriented programmes of the Government like "HunarHaat" has significantly encouraged and promoted the rich traditional heritage of master artisans which had been marginalised for a long time.
2) The scheme aims to establish Hunar Hub in all the states where programs like HunarHaati and other cultural events are to be organized.
3) It is organised under the USTAAD scheme by the Ministry of Skill Development and Entrepreneurship.
a) 1 & 2 only
b) 2 & 3 only
c) 1 & 3 only
d) all of the above
Q5. India had recently test fired two Brahmos missiles from "Trak islands", the island is a part of which of the following island groups ?
a) Lakshadweep islands
b) Indonesia
c) Andaman & Nicobar islands
d) New Moore islands
Answer :
1. (d) 2. (c) 3. (a) 4. (a) 5. (c)