Current Affairs MCQ for UPSC Exams - 24 February 2023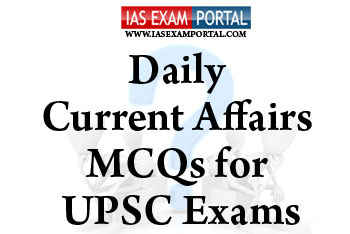 Current Affairs MCQ for UPSC Exams - 24 February 2023
Q.1) Consider the following statements: 
1. The Y20 is the official youth engagement group for the G20 (Group of 20), the forum for the world's largest and most advanced economies.
2. India is hosting the Y20 summit for the first time in 2023.
3. In this summit the list of policy recommendations is known as a communiqué, which is announced publicly at the Y20 Summit and presented to world leaders as part of the official G20 summit.
Which of the statements given above is/are correct?
(a) 1 and 3 only
(b) 2 and 3 only
(c) 1 and 2 only
(d) 1, 2 and 3
Q.2) The largest producer of lithium is 
(a) Germany 
(b) Argentina 
(c) Brazil 
(d) Australia 
Q.3) Consider the following statements:
1. PM SHRI is a Centrally Sponsored Scheme.
2. It'll provide high-quality education in an equitable, inclusive and joyful school environment.
3. It takes into account diverse background, multilingual needs, and different academic abilities ofchildren.
Which of the statements given above is/are correct?
(a) 1 and 3 only
(b) 2 and 3 only
(c) 1, 2 and 3 
(d) 2 only
Q.4) The concept called as 'ombudsman' was first originated in 
(a) Sweden 
(b) Spain 
(c) Switzerland 
(d) UK 
Q.5) Consider the following statements regarding Sodium tetrafluoroborate:
1.Sodium tetrafluoroborate is an inorganic compound with formula NaBF4.
2. It is a salt that forms colorless or white water-soluble rhombic crystals and is soluble in water but less soluble in organic solvents.
Which of the statements given above is/are correct?
(a) Neither 1 nor 2
(b) Both 1 and 2 
(c) 1 only
(d) 2 only
Answer : 1(D), 2(D), 3(C), 4(A), 5(B)