Current Affairs MCQ for UPSC Exams - 24 May 2020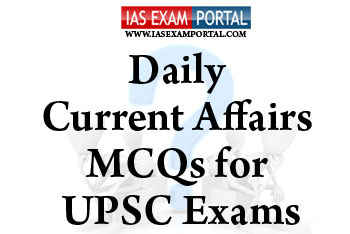 ---
Current Affairs MCQ for UPSC Exams - 24 May 2020
---
Q1 China has hinted at a shift in how it will pursue its signature Belt and Road Initiative (BRI) amid growing concerns about debt repayments from many partner countries because of the COVID-19 pandemic. Which of the following statements regarding the project stands true ?
1) The BRI was conceived as a response to the vast overcapacity in infrastructure-related industries in China in 2008 followed the global economic recession when its exports started dwindling.
2) The BRI consists of a belt of rail routes, highways, oil and gas pipelines and other infrastructure projects extending from Xian in Central China through Central Asia, Russia, West Asia and Europe.
3) India is the only Asian country which has not extended support to the project.
Options :
a) 1 & 2 only 
b) 2 & 3 only 
c) 1& 3 only 
d) all the above
Q2 The rivers flowing from Nepal to India are causing floods in India, mainly in the States of Bihar, Uttar Pradesh and Uttarakhand.Which of the following are those rivers causing such floods ?
1) Indus
2) Rapti
3) Kosi
4) Kali
5) Gandak
Options :
a) 1,2& 3 only
b) 2,3 & 5 only 
c) 1,2 & 4 only
d) all the above
Q3 The India Meteorological Department (IMD) has issued a heatwave warning over northwest and central India for the coming five days. Which of the following statements regarding the same stands true ?
1) The IMD considers a heatwave for a particular region if it reaches at least 40°C or more for plains, 37°C or more for coastal areas, and at least 30°C or more for hilly regions.
2) Rainfall activity has reduced over peninsular India, making the southern regions also susceptible to extreme hot weathers.
3) Churu in Rajasthan is considered the hottest place in the world since 2019 April, when temperatures there touched 45.3°C.
Options :
a) 1 & 2 only
b) 2 & 3 only 
c) 1 & 3 only
d) all the above
Q4 India's direct selling industry, providing livelihood to about five million people, is reinventing itself to deal with the adverse impact of COVID-19 pandemic. Which of the followings statements regarding the industry stands true ?
1) Direct selling is one of the oldest, most traditional forms of selling globally, involving a direct interaction between the seller and the buyer. Today, it is a successful industry operating in over 100 countries with a market size of USD 182.8 billion.
2) Out of the total industry sales, over 50 per cent comes from wellness products, which include weight management supplements, energy bars and drinks.
3) The government has issued guidelines to regulate direct selling companies with clear provisions to protect consumers and forbid firms from exaggerating the benefits of products or charging a fee from their agents.
Options :
a) 1 & 2 only
b) 2 & 3 only
c) 1 & 3 only
d) all the above
Q5 The Second consignment of essential medicine supplies from India reached Port Louis aboard INS Kesari located in which of the following countries ?
CLICK HERE FOR ANSWERS (Only for Course Members)
ANSWER...............