Current Affairs MCQ for UPSC Exams - 25 April 2020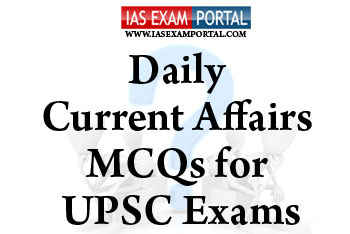 ---
Current Affairs MCQ for UPSC Exams - 25 April 2020
---
Q1 Supreme Courthad recently quashed an Order Providing 100% Reservation to ST Teachers in Scheduled Areas of Andhra Pradesh. Which of the following statements regarding the same stands true ?
1) The 1992 IndraSawhney judgement, popularly called the Mandal Commission verdict, the apex court said it was emphasised that the founding fathers of constitution never envisaged reservation of all seats and 50 per cent quota shall be the rule.
2) The President, under Article 371D, has issued orders that a resident of a district/zone cannot apply to another district/zone for appointment in Maharashtra.
3) Clause (2) of Article 341 envisages that, any subsequent inclusion in or exclusion from the list of Scheduled Castes can be effected through an Act of Parliament.
Options :
a) 1 & 2 only
b) 2 & 3 only
c) 1 & 3 only
d) all the above
Q2 Consider the following pairs of festivals in India and their corresponding states :
1) Brahmotsavam : Karnataka
2) Yaoshang : Manipur
3) Losar : Mizoram
4) Onam : Kerala
5) Baisakhi : Haryana
Which of the above pairs are correctly matched?
Options :
a) 1,2 & 3 only
b) 2, 4 & 5 only
c) 1 & 5 only
d) 2,4 & 5 only
Q3 Amid the countrywide lockdown, the National Board for Wildlife (NBWL) has recommended coal mining in a part of an elephant reserve in Assam.With respect to NBWL which of the following statements stands true ?
1) It is a "Statutory Organization" constituted under the Wildlife Protection Act, 1972 and primary function of the Board is to promote the conservation and development of wildlife and forests.
2) Its roles are "mandatory" in nature and it mandates the Central Government on framing policies and measures for conservation of wildlife in the country.
3) It has power to review all wildlife-related matters and approve projects in and around national parks and sanctuaries.
Options :
a) 1 & 2 only
b) 2 & 3 only
c) 1 & 3 only
d) all the above
Q4 In view of the recent recommendations made by the finance commission's economic advisory council to boost economic activity and fight against COVID, which of the following statements stands true ?
1) The commission wants Reserve Bank of India (RBI) to strictly adhere to Section 5 of the FRBM act and directly lend money to the government.
2) The commission recommends that states can use the escape clause of 0.5 % over the 3% of gross state domestic product mandated target in their FRBM law for any additional spending for Covid-19 battle.
3) The commission's advisory council suggested a partial loan guarantee scheme for the non-banking financial companies (NBFC) sector and a support mechanism for small scale enterprises in view of the disease outbreak.
Options :
a) 1 & 2 only
b) 2 & 3 only
c) 1 & 3 only
d) all the above
Q5 The "Jhelum Tawi Flood Recovery Project" which was initiated in 2018 in Jammu & Kashmir UT is to be completed with the financial assistance of which of the following global organisations ?
CLICK HERE FOR ANSWERS (Only for Course Members)
ANSWER..............................