Current Affairs MCQ for UPSC Exams - 25 February 2023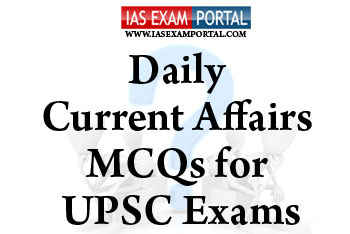 Current Affairs MCQ for UPSC Exams - 25 February 2023
Q.1) Consider the following statement regarding social stock exchange: 
1. It was first originated in India.
2. It is a stock exchange of this kind is intended to benefit the private and non-profit sectors by directing more capital to them.
3. The SSE will function as a distinct division of the current stock exchanges under the new regulations.
Which of the statements given above is/are correct?
(a) 1 and 3 only
(b) 2 and 3 only
(c) 1 and 2 only
(d) 1, 2 and 3
Q.2) Jabal an Nabi Shu'ayb is the highest point of which among the following country 
(a) Oman 
(b) Bahrin 
(c) Qatar 
(d) Yemen 
Q.3) Consider the following statements: 
1. Cysteine-cysteine chemokine receptor 5 (CCR5) is a protein on the surface of white blood cells that are involved in the immune system as it acts as a receptor for chemokines.     
2. CCR5 is found in the cell membranes of many types of mammalian cells, including nerve cells and white blood cells.
3. The role of CCR5 is to allow entry of chemokines into the cell.
Which of the statements given above is/are correct?
(a) 1 and 3 only
(b) 2 and 3 only
(c) 1, 2 and 3 
(d) 2 only
Q.4) 
(a)
(b) 
(c) 
(d) 
Q.5) Consider the following statement about Pink Dolphin:
1.It is the Amazon River dolphin which is also known as the pink river dolphin or boto and lives only in freshwater. 
2.The river dolphin is smaller than other types of saltwater dolphins, and the species has excellent hearing.
Which of the statements given above is/are correct?
(a) Neither 1 nor 2
(b) Both 1 and 2 
(c) 1 only
(d) 2 only
Answer : 1(D), 2(D), 3(C), 4(A), 5(B)