Current Affairs MCQ for UPSC Exams - 25 July 2020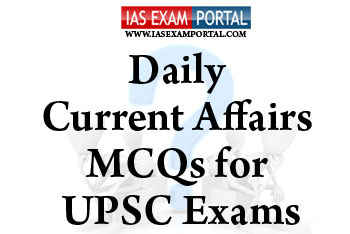 ---
Current Affairs MCQ for UPSC Exams - 25 July 2020
---
Q1. Seeking to empower and associate the marginalized potters' community with India's quest to become "Aatmanirbhar", the Union Home Minister distributed 100 electric potter wheels to 100 trained artisans under the KumharSashaktikaranYojana. Which of the following statements regarding the same stands true ?
1) KumharSashaktikaran Program is an initiative of the Khadi and Village Industries Commission(KVIC) for empowerment of potters community in the remotest of locations in the country.
2) Due to the supply of electric chaaks, the potters have benefitted with more production in less hours of work, less noise and better health benefits and less power consumption with smooth transition to higher speeds.
3) The program reaches out mainly to the potters in North eastern region of the country.
Options :
a) 1 & 2 only
b) 2 & 3 only
c) 1 & 3 only
d) all the above
Q2. The Department of Agriculture, Cooperation and Farmers Welfare is taking several measures to facilitate the farmers and farming activities at field level during COVID 19 pandemic. There has been satisfactory progress of sowing area coverage under Kharif crops. Which of the following Kharif crops witnessed a significant increase in their sowing areas ?
1) Rice
2) Cotton
3) Wheat
4) Potato
5) Pulses
Options :
a) 1,2 & 3 only
b) 2,3 & 5 only
c) 1,2 & 5 only
d) 2,4 & 5 only 
Q3. In order to strengthen its network and postal operations in rural areas and provide facility of small savings scheme to the vast majority in villages, the Department of Posts has now extended all small savings schemes upto the Branch Post Office level. Which of the following statements regarding the ame stands true ?
1) People living in villages will now be able to get the same Post Office Savings Bank facilities which people in urban areas have been availing.
2) However, the branch post offices  will not be allowed to offer facilities of Public Provident Fund, Monthly Income Scheme, National Savings Certificate, KisanVikasPatra and Senior Citizen Savings Schemes.
3) There are more than 1lakh Branch Post Offices functioning in the rural areas. Apart from facilities of letters, Speed Post, Parcels, electronic money order, Rural Postal Life Insurance, these Branch Post Offices had been providing Post Office Savings Account, Recurring Deposit, Time Deposit and SukanyaSamriddhiAccount  schemes till now.
Options :
a) 1 & 2 only
b) 2 & 3 only
c) 1 & 3 only
d) all the above
Q4. Human Resources and Development Ministry conducted the first ever Indian Scholastic Assessment (Ind-SAT) Test 2020 under its Study in India programme recently. Which of the following statements stands true ?
1) Ind-SAT is an exam for grant of scholarships and admissions to foreign students for studying in select Indian universities. 
2) The exam is designed to gauge the scholastic capability of students applying to study in India.
3) The Ind-SAT scores will serve as a criterion to shortlist the meritorious students for the allocation of scholarships for under graduate as well as post graduate programmes under Study in India programme.
Options :
a) 1 & 2 only
b) 2 & 3 only
c) 1 & 3 only
d) all the above
Q5. Recently India and signed a contract for setting up Neighbourhood Fish Processing Plants at two of the islands in which of the following neighbouring countries ?
a) Bangladesh
b) Maldives
c) Myanmar
d) Srilanka