Current Affairs MCQ for UPSC Exams - 25 June 2020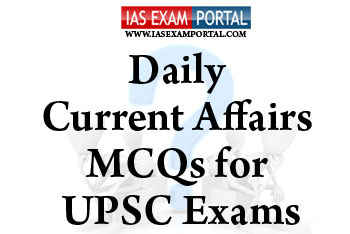 ---
Current Affairs MCQ for UPSC Exams - 25 June 2020
---

Q1. Which of the following statements with respect to the "2020 Global Education Monitoring Report" published by UNESCO stands true ?
1) About 40% of low- and lower-middle-income countries have not supported learners at risk of exclusion during this crisis, such as the poor, linguistic minorities and learners with disabilities.
2) Resources for blind and deaf students may not be available outside schools, while children with learning disabilities or those who are on the autism spectrum may struggle with independent work in front of a computer or the disruption of daily school routines.
3) Cancellation of examinations in many countries, including India, may result in scoring dependent on teachers' judgements of students instead, which could be affected by stereotypes of certain types of students.
Options :
a) 1 & 2 only
b) 2 & 3 only
c) 1 & 3 only
d) all the above
Q2. Pollinating agents are animals such as insects, birds, and bats; water; wind; and even plants themselves, when self-pollination occurs within a closed flower. Which of the following species of animals/insects are known as good pollinating agents in nature ?
1) Beetle
2) Sunbird
3) Krait
4) Earthworm
5) Bumblebees
Options :
a) 1,2 & 3 only
b) 2,4 & 5 only
c) 1,2 & 5 only
d) all the above
Q3. To protect depositors, the Centre has decided to bring all urban and multi-State cooperative banks under the supervision of the RBI. Which of the following statements regarding the same stands true ?
1) The move to bring these urban and multi-State coop. banks under the supervision of the RBI comes after several instances of fraud and serious financial irregularities.
2) Currently, these banks come under dual regulation of the RBI and the Companies act 2013.
3) From now onwards, the RBI will also have the right to supersede the management of a cooperative bank in case of governance failure.
Options :
a) 1 & 2 only
b) 2 & 3 only
c) 1 & 3 only
d) all the above
Q4. With respect to the recently introduced reforms by central government in the space sector, which of the following statements stands true ?
1) The creation of the Indian National Space Promotion and Authorization Centre (IN-SPACe ) will  hand-hold, promote and guide the private industries in space activities through encouraging policies and a friendly regulatory environment.
2) India was among a handful of countries with advanced capabilities in the space sector and these reforms would allow the Indian Space Research Organisation (ISRO) to focus more on research and development activities, new technologies, exploration missions and human spaceflight programme.
3) The 'New Space India Limited (NSIL)' would endeavour to reorient space activities from a "supply driven" model to a "demand driven" one, thereby ensuring optimum utilisation of the nation's space assets.
Options :
a) 1 & 2 only
b) 2 & 3 only
c) 1 & 3 only
d) all the above
Q5. The Cabinet recently accorded in-principle approval to set up a major port at Vadhavan , at a project cost of more than Rs 65,000 crore. The Vadhavan port will be developed on a "landlord" model, under which the port authority acts as the regulatory body as well as the landlord, while private entities handle port operations. The port is to be developed in which of the following states of India ?
a) Odisha
b) Maharashtra
c) Karnataka
d) Gujarat
ANSWERS :