Current Affairs MCQ for UPSC Exams - 27 April 2022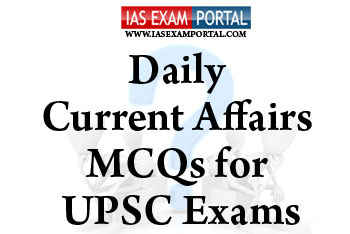 Current Affairs MCQ for UPSC Exams - 27 April 2022
Q.1) With reference to Protection of Children in Street Situation 2.0, consider the following statements: 
1. It seeks to create a convergence of the various functionaries, institutions for providing care, protection and rehabilitation.
2. Core principle adopted is looking at the child in the context of family.
3. It focuses on providing social protection to children with and without families.
Which of the statements given above is/are correct?
(a) 1 and 3 only
(b) 2 and 3 only
(c) 1 and 2 only
(d) 1, 2 and 3
Q.2) Which among the following sportspersons has been awarded with maximum number of Laureus World Sports Award? 
(a) Lionel Messi 
(b) Max Verstappen
(c) Lewis Hamilton
(d) Roger Federer 
Q.3) With reference to regarding self-amplifying mRNA vaccine, consider the following statements:
1. A self-amplifying mRNA vaccine is an improvement on the traditional RNA platform.
2. It encodes four extra proteins in addition to the vaccine antigen.
3. A self-amplifying mRNA vaccine requires a smaller dose.
Which of the statements given above is/are correct?
(a) 1 and 3 only
(b) 2 and 3 only
(c) 1, 2 and 3 
(d) 2 only
Q.4) Ramstein Air Base sometime seen in news, is a United States Air Force base. It is located in 
(a)France 
(b) Poland 
(c) Germany 
(d) Austria 
Q.5) With reference to Unnat Bharat Abhiyan programme, consider the following statements:
1.It is a flagship programme of Ministry of Education
2.IIT Delhi is the National Coordinating Institute for this programme.
Which of the statements given above is/are correct?
(a) Neither 1 nor 2
(b) Both 1 and 2 
(c) 1 only
(d) 2 only