Current Affairs MCQ for UPSC Exams - 27 March 2020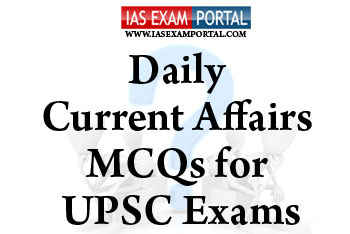 ---
Current Affairs MCQ for UPSC Exams - 27 March 2020
---
Q1 With respect to the PM GaribKalyanPackage recently announced by the central government, which of the following statements stands true ?
1) Wage-earners below Rs 15,000 per month in businesses having less than 100 workers are at risk of losing their employment. Under this package, government proposes to pay 24% of their monthly wages into their PF accounts for next three months.
2) Insurance cover of Rs 50 Lakh per health worker fighting COVID-19 to be provided under Insurance Scheme.
3) Government of India would not allow anybody, especially any poor family, to suffer on account of non-availability of foodgrains due to disruption in the next three months.
Options :
a) 1 & 2 only
b) 2 & 3 only
c) 1 & 3 only
d) all the above
Q2 Consider the following dams & their corresponding states :
1) Mullaperiyar dam: Kerala
2) Ghataprabha dam: Andhrapradesh
3) Ranapratapsagardam : Rajasthan
Which of the above pairs are correctly matched ?
Options :
a) 1 & 2only
b) 2 & 3 only
c) 1 & 3only
d) all the above
Q3 Rating agency CRISIL has cut the country's GDP growth forecast for the next financial year to 3.5% from 5.2% projected earlier, due to the spread of COVID-19.Which of the following statements regarding threating agency's other findings stands true?
1) Services, which account for 41% of total exports, have been resilient so far, but a recession in the advanced economies would dampen the prospects for IT-ITeS, tourism and bring down services' exports growth.
2) With base effect also kicking in, the second half of next fiscal should see a perceptible increase in inflation.
3) On inflation, Crisil said it may soften in FY21 for three reasons; one, the abnormal surge in food inflation in 2019 has started to correct; two, core inflation will remain moderate with slowing growth; and three, the sharp drop in crude prices will keep fuel inflation soft.
Options :
a) 1 & 2 only
b) 2 & 3 only
c) 1 & 3 only
d) all the above
Q4 Which of the following statements regarding the lion tailed macaque stands true ?
1) The lion-tailed macaque is a rainforest dweller; it is diurnal, meaning it is active exclusively in daylight hours and is endemic only to Kerala state.
2) It primarily eats indigenous fruits, leaves, buds, insects and small vertebrates in virgin forest, but can adapt to rapid environmental change in areas of massive selective logging through behavioural modifications and broadening of food choices.
3) Destruction of their habitat and their avoidance of human proximity have led to the drastic decrease of their population.
Options :
a) 1 & 2 only
b) 2 & 3 only
c) 1 & 3 only
d) all the above
Q5 The Election Commission recently allowed..............................................
CLICK HERE FOR ANSWERS (Only for Course Members)
ANSWER..................................