Current Affairs MCQ for UPSC Exams - 27 November 2019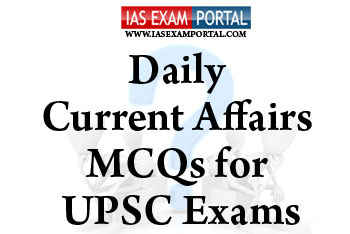 ---
Current Affairs MCQ for UPSC Exams - 27 November 2019
---
Q1 With respect to the recently released UNEP report of greenhouse gas emissions, which of the following statements stands true ?
1) The report finds that greenhouse gas emissions had risen 1.5% per year over the last decade and emissions in 2018, including from land­use changes such as deforestation, hit a new high of 55.3 Gigatonnes of CO2 equivalent.
2) According to the report, countries collectively failed to stop the growth in global GHG emissions. Deeper and faster cuts are now required.
3) Unless global greenhouse gas emissions fall by 7.6% each year between 2020 and 2030, the world will miss the opportunity to get on track towards the 1.5°C temperature goal of the Paris agreement .
Options :
a) 1 & 2 only
b) 2& 3 only
c) 1 & 3 only
d) all the above
Q2 Minister for Fisheries, Animal Husbandry and Dairying, said India is the largest milk-producing country in the world and animal husbandry has been a major contributor to the growth of farmers.
Which Of the following are the native cow varieties of India ?
1) Jamnapari
2) Gir
3) Deoni
4) Beetal
5) Rathi
Options :
a) 1,2 & 3 only
b) 2,4 & 5 only
c) 2,3 & 5 only
d) 1,3 & 4 only
Q3 With respect to the recently passed The Transgender Persons (Protection of Rights) Bill, 2019 which of the following statements stands true ?
1) The Bill therefore allows individuals to self-identify their gender, but at the same time they must also undergo the screening process to get certified, and as a result be identified as a 'transgender'.
2) The Bill specifically recognises and provides appropriate penalties for violence faced by transgender persons from officials in educational institutions, healthcare institutions, police stations, etc.
3) No government or private entity can discriminate against a transgender person in employment matters, including recruitment, and promotion. Every establishment is required to designate a person to be a complaint officer to deal with complaints in relation to the Act.
Options :
a) 1 & 2 only
b) 2& 3 only
c) 1 & 3 only
d) all the above
Q4 India has now emerged from just an automobile producing hub to designing and development hub as well. Which of the following statements regarding the same stands true?
1) The Automotive Mission Plan (AMP) 2006-16 taken up jointly by Government of India and the India automotive industry has been largely successful in its endeavour to lay down the roadmap for development of the industry.
2) The Automotive industry has achieved the target of incremental employment creation of 25 million jobs over the period 2006-2016.
3) India has attracted significant quantum of investments from global and local original equipment manufacturers (OEMs) as well as component manufacturers, exceeding the target of Rs. 1,57,500 crore.
Options :
a) 1 & 2 only
b) 2& 3 only
c) 1 & 3 only
d) all the above
Q5 The Atapaka bird sanctuary has become a safe breeding ground for two migratorybird species. The sanctuary, surrounded by an artificial pond, has a good vegetation cover supporting nests for the avian guests. It hosts around 6000 pelicans and around 1200 painted storks during winter.
The sanctuary is located in which of the following lakes ?
a) Chilika lake
b) Kolleru lake
c) Vembanadu lake
d) Wular lake
Answer :
1. (d) 2. (c) 3. (c) 4. (d) 5.(b)