Current Affairs MCQ for UPSC Exams - 28 April 2020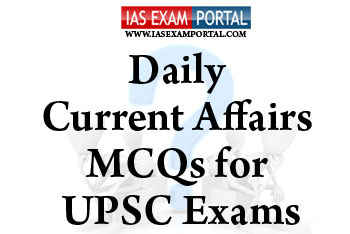 ---
Current Affairs MCQ for UPSC Exams - 28 April 2020
---
Q1 Recently scientists have found that the largest hole ever observed in the ozone layer over the Arctic has closed. Which of the following statements regarding the same stands true ?
1) The Antarctic ozone hole in 2019 was the smallest since this atmospheric disruption caused by CFC gases was discovered in 1985.
2) The banning of these gases by the Montreal Protocol in 1987 has allowed a reduction in the Antarctic ozone hole and even the gradual restoration of atmospheric currents in the southern hemisphere, according to a recent study.
3) Last year's reduction in the ozone hole was also due to an extreme episode of tropospheric warming.
Options :
a) 1 & 2 only
b) 2 & 3 only
c) 1 & 3 only
d) all the above
Q2 Virtual Reality (VR) holds a huge potential to transform how people and businesses interact with each other as well as the surroundings. Which of the following are the possible applications/uses of VR ?
1) Work Collaboration in the Workplace
2) Training Medical Students
3) Managing and Treating Anxiety Disorder
4) Pain management
5) Leisure/entertainment activities
Options :
a) 1,2 & 3 only
b)2,4 & 5 only
c) all the above
d) 1,3 & 4 only
Q3 Recently, Indian Chemicals and petrochemicals industry becomes top exporting sector for 1st time. Which amongst the following statements regarding the industry stands true ?
1) India is a strong global dye supplier, accounting for approximately 16% of the world production of dyestuff and dye intermediates.
2) Chemicals industry in India has been de-licensed except for few hazardous chemicals.
3) India's proximity to the Middle East, the world's source of petrochemicals feedstock, makes for economies of scale.
Options :
a) 1 & 2 only
b) 2 & 3 only
c) 1 & 3 only
d) all the above
Q4 Which of the following statements with respect to the recently published 'Trends in World Military Expenditure, 2019' by Stockholm International Peace Research Institute (SIPRI) report stands true ?
1) The global military expenditure rose to $1917 billion in 2019 with India and China emerging among the top three spenders, according to the report.
2) While India's defence spending including pensions, which constitute a significant part, has been decreasing in absolute terms, it has been growing significantly as a percentage of its GDP as noted by the report.
3) The defence allocation in the latest budget for 2020-21 which was ₹3.37 lakh crore, excluding defence pensions, accounts for about 1.5% of the country's GDP, the lowest in recent times.
Options :
a) 1 & 2 only
b) 2 & 3 only
c) 1 & 3 only
d) all the above
Q5 Which of the following offices/persons............
CLICK HERE FOR ANSWERS (Only for Course Members)
ANSWER..............