Current Affairs MCQ for UPSC Exams - 28 March 2020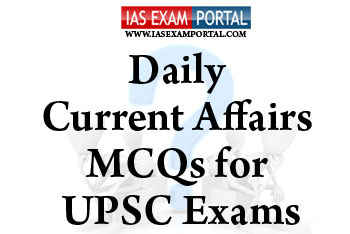 ---
Current Affairs MCQ for UPSC Exams - 28 March 2020
---
Q1.With respect to food security and rationing provisions in India, which of the following statements stands true ?
1) In India, the British introduced rationing in six cities in 1942, mainly to supply industrial workers with adequate food and the western united provinces became the first rural area to implement rationing in 1943.
2) Around 75% of rural households, and 50% of urban households, that is, a total of two-thirds of all households, are eligible for inclusion in the NFSA.
3) The implementation of the NFSA — notably the PDS, the Mid-day Meal Scheme, and the Integrated Child Development Services scheme varies significantly across States; nevertheless, the infrastructure for distribution of food is in place in all parts of the country.
Options :
a) 1 & 2 only
b) 2 & 3 only
c) 1 & 3 only
d) all the above
answer : b
Q2 Which of the following sectors have been given exemption under the 21 day lockdown announced by the prime minister in the country in order to contain the COVID-19 epidemic ?
1) Disaster management
2) Offices of the Government of India
3) Power generation and transmission
4) Offices of the State/ Union Territory Governments
5) Post offices
Options :
a) 1,2& 3 only
b) 2,3 & 5 only
c) 1,3 & 5 only
d) all the above
answer : c
Q3.Health Ministry has issued a notification restricting the sale and distribution of "Hydroxychloroquine" declaring it as an essential drug to meet the requirements of emergency arising due to the pandemic COVID-19. Which of the following statements regarding the drug stands true ?
1) Hydroxychloroquine (HCQ), among others, is a medication used to prevent and treat malaria in areas where malaria remains sensitive to chloroquine.
2) The drug label advises that hydroxychloroquine should not be prescribed to individuals with known hypersensitivity to 4-aminoquinoline compounds.
3) They do not cause any side-effects to the patients unless overdosed.
Options :
a) 1 & 2 only
b) 2 & 3 only
c) 1 & 3 only
d) all the above
answer : a
Q4.Which of the following statements regarding the steps taken by RBI (to infuse liquidity) to deal with the COVID pandemic stand true?
1) The higher reduction in reverse repo rate was aimed at prompting banks to lend more,rather than parking their excess liquidity with the RBI.
2) Banks do not earn any interest for maintaining CRR balance. With the reduction in CRR, they can deploy the liquidity in interest-earning assets.
3) The RBI had also increased the SLR from 2-3%.This measure would provide comfort to the banking system by allowing it to avail [itself of] an additional ₹1,37,000crore of liquidity under the LAF window in times of stress at the reduced MSF rate announced in the MPC's resolution.
Options :
a) 1 & 2 only
b) 2 & 3 only
c) 1 & 3 only
d) all the above
Q5. "Ali-Ternam" and "Arr-Rinam" which are............................................
CLICK HERE FOR ANSWERS (Only for Course Members)
ANSWER....................