Current Affairs MCQ for UPSC Exams - 28 May 2020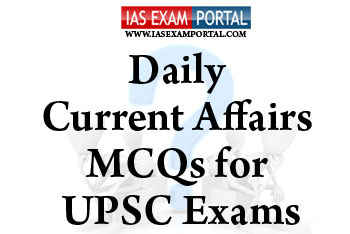 ---
Current Affairs MCQ for UPSC Exams - 28 May 2020
---
Q1. The Supreme Court, which has been experimenting with tech solutions and artificial intelligence tools to streamline the working of courts, has developed a software called SCI-Interact to make all its 17 benches paperless. Which of the following statements with respect to technical upgradation of the court stands true ?
1) With the help of this software, judges will be able to access files, annexures to petitions and make soft notes on computers itself, without it being accessible to others.
2) The court is also working at a tool named SUVAS (Supreme Court VidhikAnuvaad Software, aimed at data mining, tracking progress of cases, legal research and other uses to ensure timely delivery of justice by judges.
3) It has also developed SUPACE (Supreme Court Portal for Assistance in Court Efficiency) portal to translate judicial documents from English to nine vernacular languages.
a) 1 & 2 only
b) 1 only
c) 2 & 3 only
d) 2 only
Q2. Which of the following art/cultural forms are included in the UNESCO's List of Intangible Cultural Heritage list from India ?
1) Ajanta caves
2) Ashokan edicts
3) Ramleela
4) Kalbelia dance
5) Kumbhmela
a) 1,2 & 3 only
b) 1,4 & 5 only
c) 3,4 & 5 only
d) all of the above
Q3. Which of the following statements regarding the recently released World Gold Council report "Retail Gold Insights: India Jewellery Report" stands true ?
1) According to the World Gold Council, the current young Indian women show least interest towards gold ornaments. Only 33% of women in the age group 18-24 bought gold jewellery.
2) This is a great threat to the gold market as India is one of the largest gold market in the world and decrease in gold purchase in the country will affect gold industry badly.
3) The report says that gold jewellery was most popular item among "Fashion and Lifestyle" shoppers followed by cloths and silk sarees.
a) 1 & 2 only
b) 2 & 3 only
c) 1 & 3 only
d) all of the above
Q4. Naturalists in Algeria have filmed a Saharan cheetah, for the first time in a decade. Which of the following statements regarding the species stands true ?
1) The Saharan cheetah is quite different in appearance from the other African cheetahs. Its coat is shorter and paler in colour.
2) The species was categorised 'extinct' under IUCN classification till now.
3) Its range is now limited to isolated pockets across the Sahara and Sahel from Mali in the west to the Central African Republic in the east.
a) 1 & 2 only
b) 2 & 3 only
c) 1 & 3 only
d) all of the above
Q5. Katkari tribal youth in news recently for selling Giloy and other products online during lockdown had received help under the PradhanMantri Van DhanYojana (PMVDY).The tribes belong to which of the following Indian states ?
CLICK HERE FOR ANSWERS (Only for Course Members)
ANSWER ........................................