Current Affairs MCQ for UPSC Exams - 28 November 2019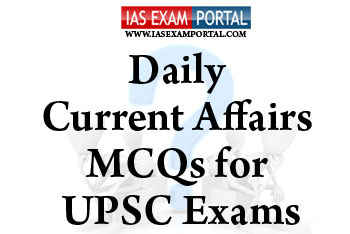 ---
Current Affairs MCQ for UPSC Exams - 28 November 2019
---
Q1. Consider the following statements :
1) Diarrhea leads to substantial illness and death in children in low- and middle-income countries (LMICs). As per the researchers, there is no vaccine yet for use for children and vaccine development for Diarrhea is a World Health Organization (WHO) priority.
2) Escherichia or E. coli (ETEC) bacteria are primary cause of diarrhea.
3) But now, an oral ETEC vaccine candidate, named 'ETVAX' has been developed that consists of inactivated E. coli bacteria expressing high levels of protective antigens as well as ETEC-based B subunit protein LCTBA.
Which of the above statements are true ?
a) 1 & 2 only
b) 2 & 3 only
c) 1 & 3 only
d) all of the above
Q2. Consider the following pairs of wildlife sanctuaries and their respective states :
1) Tansa : Maharashtra
2) Tal Chhapar : Assam
3) Sajnekhali : West Bengal
4) Sonai rupa : Arunachal Pradesh
5) Bankatwa : Karnataka
Which of the above pairs are correctly matched ?
a) 1,2 & 3 only
b) 2,3 & 5 only
c) 1,3 & 4 only
d) 1,4 & 5 only
Q3. Which of the following statements regarding the Jal Jeevan mission stands true ?
1) The mission's goal is to provide to all households in rural India safe and adequate water through individual household tap connections by 2024.
2) The Jal Jeevan Mission will be based on a community approach to water. According to the government, the mission will include information, education and communication as key components. The mission is meant to create a people's movement for water, making it everyone's priority.
3) According to the NITI Aayog's Composite Water Management Index (CWMI) 2018, 21 Indian cities could face Day Zero in the coming years. Day Zero refers to the day when a place is likely to have no drinking water of its own.
a) 1 & 2 only
b) 2 & 3 only
c) 1 & 3 only
d) all of the above
Q4. The Lok Sabha today passed the Prohibition of Electronic Cigarettes Bill, 2019.Which of the following statements regarding the provisions of the bill stands true ?
1) It defines electronic cigarettes (e-cigarettes) as electronic devices that heat a substance, which may contain nicotine and other chemicals, to create vapour for inhalation.
2) Under the Bill, no person is allowed to use any place for the storage of any stock of e-cigarettes. If any person stores any stock of e-cigarettes, he will be imprisoned for up to six months, or slapped with a fine of up to fifty thousand rupees, or both.
3) E- cigarettes have large consumer base in the country and the implementation of the act will lead to the fight against tobacco and creating awareness about its ills.
a) 1 & 2 only
b) 2 & 3 only
c) 1 & 3 only
d) all of the above
Q5. Recently which one of the following west Asian countries have been elected to the UNESCO world heritage committee for the first time ?
a) Iran
b) Saudi Arabia
c) Qatar
d) Israel
Answer :
1. (c) 2. (c) 3. (d) 4. (a) 5.(b)