Current Affairs MCQ for UPSC Exams - 28 October 2019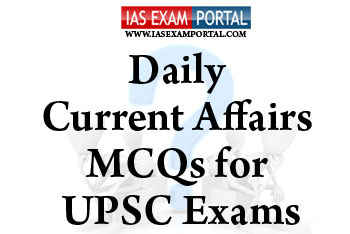 ---
Current Affairs MCQ for UPSC Exams - 28 October 2019
---
Q1. Consider the following statements regarding Indian ocean region and the IORA :
1) As the third largest ocean woven together by trade routes, commands control of major sea-lanes carrying half of the world's container ships, one third of the world's bulk cargo traffic and two thirds of the world's oil shipments, the Indian Ocean remains an important lifeline to international trade and transport.
2) The IORA is a regional forum, tripartite in nature, bringing together representatives of Government, Business and Academia, for promoting co-operation and closer interaction among them.
3) It is based on the principles of Open Regionalism for strengthening Economic Cooperation particularly on Trade Facilitation and Investment, Promotion as well as Social Development of the region.
Which of the above statements are true ?
a) 1 & 2 only
b) 2 & 3 only
c) 1 & 3only
d) all of the above
Q2. Under section 69(1) of IT act,the central government can intercept,monitor and decrypt exchange of information between individuals under which of the following cases ?
1) National security
2) Defence of India
3) Public order
4) Friendly relationship with foreign countries
a) 1 & 2 only
b) 2 & 4 only
c) 1 & 3 only
d) all of the above
Q3. Which of the following statements regarding "Organoids "stands true ?
1) Organoids are a group of cells grown in laboratories into three dimensional, miniature structures that mimic the cell arrangement of a fullygrown organ.
2) They are tiny(typically the size of a pea) organ like structures that do not achieve all the functional maturity of human organs but often resemble the early stages of a developing tissue.
3) However the growing cells are incapable of replicating complex functions of mature organs like psychological processes to regeneration.
a) 1 & 2 only
b) 2 & 3 only
c) 1 & 3only
d) all of the above
Q4. Last October, in a landmark judgment, the Supreme Court of India mandated the use of greencrackers for Deepavali, prescribing specific norms for their manufacture .Which of the following statements regarding the same stands true ?
1) The manufacturers of green crackers claim that particulate matter pollution has been reduced by 30%.
2) Traditionally, firecrackers have been made with barium nitrate, antimony and a range of metals that, over the years, have been linked to respiratory diseases and even cancer.
3) Green crackers do not contain barium nitrates while they use strontium and lithium which are less harmful to environment and ecology.
a) 1 & 2 only
b) 2 & 3 only
c) 1 & 3only
d) all of the above
Q5. Recently the forest advisory committee (fac) had given in principle approval for exploration of Uranium in the "Amrabad tiger reserve" located in which of the following states of India ?
a) Tamilnadu
b) Telangana
c) Bihar
d) Jharkhand
Answer :
1. (d) 2. (d) 3. (a) 4. (a) 5. (b)