Current Affairs MCQ for UPSC Exams - 29 June 2019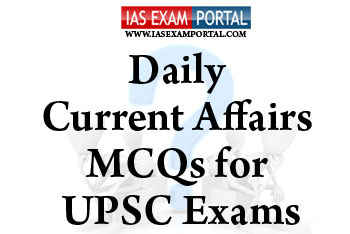 ---
Current Affairs MCQ for UPSC Exams - 29 June 2019
---
Q1. Consider the following statements regarding the newly introduced initiative ofJalshaktiabhiyan :
1) The Jal Shakti Abhiyan would aim to accelerate water harvesting, conservation and borewell recharge activities already being carried out under the MGNREGA scheme and the Integrated Watershed Management Programme.
2) Progress would be monitored in real time through mobile applications and an online dashboard at indiawater.gov.in.
3) Block and district-level water conservation plans would be drafted, and KisanVigyanKendras would hold melas to promote better crop choices and more efficient water use for irrigation.
Which of the above statements are true ?
a) 1 & 2 only
b) 2 & 3 only
c) 1 & 3 only
d) all of the above
Q2. Arrange the following wildlife sanctuaries in India from north to south :
1) Nalsarovar
2) Dandeli
3) Tal chappar
4) Bhitarkanika
5) Kedarnath
a) 3,4,2,1,5
b) 5,3,1,4,2
c) 5,1,3,4,2
d) 3,2,1,5,4
Q3. Which of the following statements regarding aluminium scrap imports/dumping to India are true ?
1) India has overtaken China as the preferred destination for aluminium scrap with imports growing 18.8% in the January-March 2019 quarter compared with the same quarter of the previous year.
2) This, according to industry players, is hurting Indian industry and is the direct result of the trade war between China and the U.S.
3) Even though aluminium scrap has a higher import tax compared to primary aluminium in India; due to its high durability they are imported more in number.
a) 1 & 2 only
b) 2 & 3 only
c) 1 & 3 only
d) all of the above
Q4. Consider the following statements :
1) NASA plans to fly a drone copter to Saturn's largest moon Titan in search of the building blocks of life in 2026 and 2034 named 'Dragon fly Mission '.
2) Titan is the only celestial body besides our planet known to have liquid rivers, lakes and seas on its surface, that contain hydrocarbons like methane, ethane and water.
3) The craft will land first at the equatorial "Shangri-La" dune, exploring the region in short trips before building up to longer "leapfrog" flights of 8 km.
Which of the above statements are true ?
a) 1 & 2 only
b) 2 & 3 only
c) 1 & 3 only
d) all of the above
Q5. Recently,which of the following north east states were gifted a museum of peace by Japan to commemorate the famous "Battle of Imphal" during the second world war ?
a) Assam
b) Arunachal Pradesh
c) Manipur
d) Nagaland
Answer:
1. (d) 2. (b) 3. (a) 4. (c) 5. (c)