Current Affairs MCQ for UPSC Exams - 30 August 2022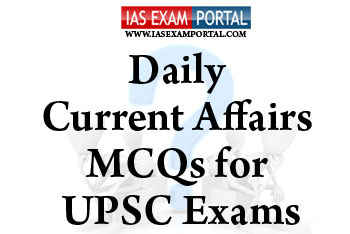 Current Affairs MCQ for UPSC Exams - 30 August 2022
Q.1) With reference to regarding Unified Payments Interface system, consider the following statements:
1. Unified Payments Interface is an instant real-time payment system developed by National Payments Corporation of India. 
2. The interface facilitates inter-bank peer-to-peer and person-to-merchant transactions. 
3. UPI is an open-source application programming interface that runs on top of Immediate Payment Service.
Which of the statements given above is/are correct?
(a) 1 and 3 only
(b) 2 and 3 only
(c) 1 and 2 only
(d) 1, 2 and 3 only
Q.2) The Central Vigilance Commission is currently headed by 
(a) Rajesh Chakraborty 
(b) Amitabh Kant 
(c) Sumit Rana 
(d) Suresh Patel
Q.3) With reference to the National Cadet Corps, consider the following statements:
1. It is a youth development movement that came into existence in 1948.
2. National Cadet Corps is open to all regular students of schools and colleges on a voluntary basis.
3. It aims at developing character, comradeship, discipline, a secular outlook, spirit of adventure and ideals of selfless service amongst young citizens.
Which of the statements given above is/are correct?
(a) 1 and 3 only
(b) 2 and 3 only
(c) 1, 2 and 3 only
(d) 2 only
Q.4) Recently seen in news about Fraud Registry. It will set up by which among the following institution 
(a) Reserve Bank of India
(b) Ministry of Finance 
(c) SEBI
(d) NITI AAYOG 
Q.5) Consider the following statements: 
1. PFAs are man-made chemicals.
2. PFAs can migrate to the soil, water and air during their production and use. 
Which of the statements given above is/are correct?
(a) Neither 1 nor 2
(b) Both 1 and 2 
(c) 1 only
(d) 2 only