Current Affairs MCQ for UPSC Exams - 30 October 2019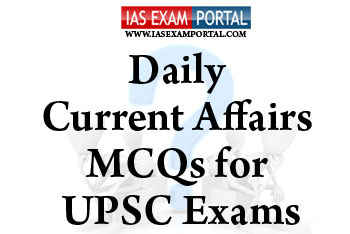 ---
Current Affairs MCQ for UPSC Exams - 30 October 2019
---
Q1. India has taken inspiration from Brazil's success in the field of human milk bank decided to adopt a similar model in creating a wide network of human milk banks. Which of the following statements regarding the same stands true ?
1) Brazil today has more than 200 human milk banks - more than anywhere else in the world. As well as banks, Brazil's strategy also includes innovative measures like training postmen to provide information on breastfeeding to pregnant women and using fire-fighters to collect surplus milk for donation from lactating women.
2) India has set a target of ensuring at least 90 per cent infants to have access to breast milk by the year 2030. The Target will subsequently be increased to 100 per cent.
3) India still accounts for 20% of infant mortality globally. Over half of these deaths are of babies under 28 days old, according to a recent report
a) 1 & 2 only
b) 2 & 3 only
c) 1 & 3 only
d) all of the above
Q2. Which of the following species of animals/birds are included in the IUCN critically endanger list ?
1) NilgiriLangur
2) Kondana Rat
3) Malabar civet
4) Olive ridley turtle
5) Forest owlet
a) 1,2& 3 only
b) 3,4 & 5 only
c) 2,3 & 5 only
d) all of the above
Q3. The central government has planned to bring in 8,000 block level plastic waste management units soon. Which of the following statements regarding the programme are true ?
1) Every village will be asked to start waste segregation and send its plastic waste to the block level plastic waste management unit. The unit will work at converting the aggregated waste into bales, shred them and transport them to aggregators for recycling.
2) While the Swachh Bharat Mission already calls for waste management and this includes plastic, further impetus will be given for collection and management of plastic waste, given India's call to cut use of single use plastic by 2020.
3) The JalShakthi ministry is also planning to bring in a new extended producer responsibility (EPR) framework to ensure plastic manufacturers/industry users also ensure collection and disposal of the plastic after it is used.
a) 1 & 2 only
b) 2 & 3 only
c) 1 & 3 only
d) all of the above
Q4. Which of the following includes the recently released 15 point reform charter by the Indian Vice president for better functioning of Parliament ?
1) VP says no alternative to First Pass the Post (FPTP) System and presidential form of government is no option.
2) It calls for effective functioning of department related standing committees with longer tenure instead of the present one year, promoting specialisation by nominating the Members for a longer period etc.
3) It also urges the political parties to ensure attendance of at least 50% of their legislators all through the proceedings of the Houses by adopting a roster system.
a) 1 & 2 only
b) 2 & 3 only
c) 1 & 3 only
d) all of the above
Q5. The 'Ek Bharat, Shreshtha Bharat' programme has enabled the celebration of Unity in Diversity and have promoted the spirit of National Integration in showcasing the richness of traditional heritage and culture and most pertinently created a long term engagement between different states.
It was launched on the 140th birth anniversary of which of the following freedom struggle leaders ?
a) BalGangadharTilak
b) Annie Beasant
c) SardarVallabhbhai Patel
d) LalaLajpatRai
Answer :
1. (c) 2. (c) 3. (a) 4. (d) 5.(c)