Current Affairs MCQ for UPSC Exams - 30 October 2020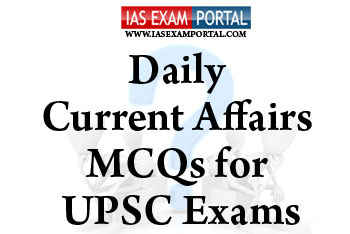 ---
Current Affairs MCQ for UPSC Exams - 30 October 2020
---
Q1 About 20% of rural children have no textbooks at home, according to the latest Annual State of Education Report (ASER) survey. Which of the following statements regarding the survey stands true ?
1) In the week of the survey, about one in three rural children had done no learning activity at all. About two in three had no learning material or activity given by their school that week, and only one in 10 had access to live online classes.
2) ASER is a nationwide survey of rural education and learning outcomes in terms of reading and arithmetic skills that has been conducted by the Ministry of Statistics for the last 15 years.
3) In fact, levels of smartphone ownership have almost doubled from 2018, but a third of children with smartphone access still did not receive any learning materials.
Options :
a) 1 & 2 only
b) 2 & 3 only
c) 1 & 3 only
d) all the above
Q2 Consider the following pairs of national parks in India and their corresponding location states :
1) Gorumara : West bengal
2) Marine national park : Gulf Of Khambat
3) Balphakram  : Meghalaya
4) Palamu :Chattisgarh
5) Madhav national park : Madhya Pradesh
Which of the above pairs are matchedincorrectly ?
---
Options :
a) 1,2& 3 only
b) 2 & 4  only
c) 1,3 & 5 only
d) 2 & 4 only
Q3 The NITI Aayog has framed a model Act on conclusive land titles that it hopes will be adopted and implemented by states. Which of the following statements regarding the model act stands true ?
1) The aim is to facilitate easy access of credit to farmers and reduce a large number of land-related litigations, besides enabling transparent real estate transactions and land acquisition for infrastructure developments.
2) Under the model Act, the land dispute resolution officer and the land title appellate tribunal are one-shot institutions which will fade away as the work reduces.
3) Land ownership in India is often determined through various records such as sale deeds, which are a record of the property transaction between the buyer and seller, besides property tax receipts and survey documents.
---
Options :
a) 1 & 2 only
b) 2 & 3 only
c) 1 & 3 only
d) all the above
Q4 Which of the following statements with respect to the newly launched 'MeriSaheli initiative' stands true ?
1) Railway Protection Force, RPF has launched this initiative for the security of lady passengers. This initiative is aimed to instill a sense of security among the lady passengers and respond effectively to any security-related issue faced by lady passengers.
2) The platform duty RPF personnel at the stopping stations en-route keep unobtrusive watch over the concerned coaches and berths. 
3) MeriSaheli initiative isto be started as a pilot project in South Eastern Railway in December this year.
Options :
a) 1 & 2 only
b) 2 & 3 only
c) 1 & 3 only
d) all the above
Q5 Which of the following north eastern states is considered as the gateway of the 'Act East Policy' of the Indian government ?
a) Assam
b) Meghalaya
c) Tripura
d) Nagaland