(Event) Careers in Indian Foreign Services: Indian Public Diplomacy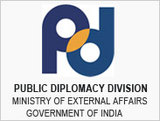 Lakhs of Indians each year appear for the UPSC examinations in the hope of getting into one of the civil services. At the top of the pile of all the services is the Indian Foreign Service. A career in foreign services may be a dream come true but what is it that goes in the making of a diplomat?
Join career diplomats Navdeep Suri, (R) Joint Secretary & Head of the Public Diplomacy Division and Abhay Kumar, Under Secretary on Monday, June 6, between 3 pm and 4 pm to find out more about careers in the Indian Foreign Services.
About Navdeep Suri
An Indian Foreign Service officer since 1983, Navdeep Suri has served in a host of different capacities in India's diplomatic missions in Egypt, Syria, the United States, Tanzania, the UK and South Africa. He has worked in the economic division of the Ministry of External Affairs, headed its West Africa division and was our Consul General in Johannesburg till October 2009 before returning to take over his present assignment. He speaks Arabic and French and his translation of Punjabi classic The Watchmaker was published by Penguin in 2008.
About Abhay Kumar
An Indian Foreign Service Officer since 2003 Abhay Kumar has served at the Embassy of India, Moscow in capacity of Third and Second Secretary and as Consul at the Consulate General of India in St. Petersburg. He speaks fluent Russian and is author of six books including River Valley to Silicon Valley- Story of three generations of an Indian family. He handles new media and digital diplomacy at the Public Diplomacy Division of Ministry of External Affairs.
Indian Public Diplomacy :Website or  Web Page
Courtesy: Rediff.com