(Info) About: No-fly zone
No-fly zone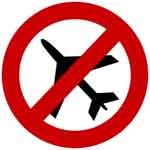 A no-fly zone is a territory over which aircraft are not permitted to fly.  Its objectives include:
Security of a particular area.
Security of a particular structure.
Security of particular group of people.
So, such zones are usually set up in a military context, somewhat like a demilitarized zone in the sky.
No-fly zones of past
Iraq, 1991–2003: In 1991, the Western power intervened in Kurdish-Iraqi dispute in northern Iraq by establishing a no-fly zone in which Iraqi aircraft were prevented from flying. The objective of the no-fly zone was to prevent possible bombing and chemical attacks against the Kurdish people by the Iraqi regime.
No-fly zone was declared under United Nation Security Council Resolution 688
The initial operations were dubbed Operation Provide Comfort and Operation Provide Comfort II and were followed by Operation Northern Watch. The objective of Operation Southern Watch was established in 1992 to protect Iraq's Shia population. It originally extended to the 32nd parallel but was extended to the 33rd parallel in 1996.
Bosnia and Herzegovina, 1993–1995: In 1992, United Nations Security Council Resolution 781 prohibited unauthorized military flights in Bosnian airspace. This led to Operation Sky Monitor, where NATO monitored violations of the no-fly zone but did not take action against violators of the resolution.
To curb the violation of the no-fly zone, the Security Council passed Resolution 816, which prohibited all unauthorized flights and allowed all UN member states to take all necessary measures.to ensure compliance with the no-fly zone restrictions. This led to Operation Deny Flight .and Operation Deliberate Force by NATO.
No-fly zones in India
The Taj Mahal, Agra, Uttar Pradesh.
The Rashtrapati Bhavan , Delhi.
Parliament Building,
Prime Minister's residence, and other important centers in New Delhi.
The airspace around many Defence and Indian Air Force bases
The Tower of Silence, Mumbai.
Mathura Refinery
Tirupathi Tirumala Andhra pradesh
Bhabha Atomic Research Centre
Contributed By: Vijay Jha