(Awards) Padma Awards 2011
Padma Awards 2011

President Pratibha Patil on Friday presented the second lot of Padma awards for 2011 to 64 winners, including Planning Commission Deputy Chairman Montek Singh Ahluwalia, the former Attorney-General K. Parasaran, WIPRO chief Azim Premji, Telugu film star Akkineni Nageswara Rao, and the former Finance Commission Chairman Vijay Laxman Kelkar, who were honoured with the Padma Vibhushan.
In all, the government had announced 128 awards — 13 Padma Vibhushan, 31 Padma Bhushan and 84 Padma Sri on Republic Day eve.
At the first investiture ceremony on March 24, the President presented the awards to four Padma Vibhushan, 15 Padma Bhushan and 42 Padma Shri winners. On Friday, eight persons received the Padma Vibhushan, 16 the Padma Bhushan and 40 the Padma Shri.
List of Winners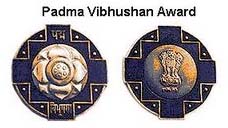 | Sl.No. | Name | Discipline | State / Domicile |
| --- | --- | --- | --- |
| 1. | Dr. (Smt.) Kapila Vatsyayan | Art - Art Administration and Promotion. | Delhi |
| 2. | Mrs. Homai Vyarawalla | Art - Photography | Gujarat |
| 3. | Shri A Nageshwara Rao | Art- Cinema | Andhra Pradesh |
| 4. | Shri Parasaran Kesava Iyengar | Public Affairs | Delhi |
| 5. | Dr. Akhlaq-ur-Rehman Kidwai | Public Affairs | Delhi |
| 6. | Shri Vijay Kelkar | Public Affairs | Delhi |
| 7. | Shri Montek Singh Ahluwalia | Public Affairs | Delhi |
| 8. | Shri Palle Rama Rao | Science and Engineering | Andhra Pradesh |
| 9. | Shri Azim Premji | Trade and Industry | Karnataka |
| 10. | Shri Brajesh Mishra | Civil Services | Madhya Pradesh |
| 11. | Prof. (Dr.) Ottaplakkal Neelakandan Velu Kurup | Literature and Education | Kerala |
| 12. | Dr. Sitakant Mahapatra | Literature and Education | Orissa |
| 13. | Late Shri L. C. Jain | Public Affairs | Delhi * |

| Sl.No. | Name | Discipline | State / Domicile |
| --- | --- | --- | --- |
| 1. | Shri Satyadev Dubey | Art - Theatre | Maharashtra |
| 2. | Shri Mohammed Zahur Khayyam Hashmi alias Khayyam | Art - Cinema - Music | Maharashtra |
| 3. | Shri Shashi Kapoor | Art - Cinema | Maharashtra |
| 4. | Shri Krishen Khanna | Art - Painting | Haryana |
| 5. | Shri Madavur Vasudevan Nair | Art - Dance - Kathakali | Kerala |
| 6. | Ms. Waheeda Rehman | Art - Cinema | Maharashtra |
| 7. | Shri Rudrapatna Krishna Shastry Srikantan | Art - Music-Vocal | Karnataka |
| 8. | Ms. Arpita Singh | Art - Painting | Delhi |
| 9. | Dr. Sripathi Panditharadhyula Balasubrahmanyam | Art - Playback Singing, Music Direction & acting | Tamil Nadu |
| 10. | Shri C.V. Chandrasekhar | Art - Classical Dance-Bharatanatyam | Tamil Nadu |
| 11. | Shri Dwijen Mukherjee | Art | West Bengal |
| 12. | Smt. Rajashree Birla | Social work | Maharashtra |
| 13. | Mrs. Shobhana Ranade | Social work | Maharashtra |
| 14. | Dr. Suryanarayanan Ramachandran | Science and Engineering  | Tamil Nadu |
| 15. | Shri S.(Kris) Gopalakrishnan | Trade and Industry | Karnataka |
| 16. | Shri Yogesh Chander Deveshwar | Trade and Industry | West Bengal |
| 17. | Ms. Chanda Kochhar | Trade and Industry | Maharashtra |
| 18. | Dr. K. Anji Reddy | Trade and Industry- Pharmacy | Andhra Pradesh |
| 19. | Shri Analjit Singh | Trade and Industry | Delhi |
| 20. | Shri Rajendra Singh Pawar | Trade and Industry | Haryana |
| 21. | Dr. Gunapati Venkata Krishna Reddy | Trade and Industry | Andhra Pradesh |
| 22. | Shri Ajai Chowdhary | Trade and Industry | Delhi |
| 23. | Shri Surendra Singh | Civil Services | Delhi |
| 24. | Shri M. N .Buch | Civil Services | Madhya Pradesh |
| 25. | Shri Shyam Saran | Civil Services | Delhi |
| 26. | Shri Thayil Jacob Sony George | Literature and Education | Karnataka |
| 27. | Dr. Ramdas Madhava Pai | Literature and Education | Karnataka |
| 28. | Shri Sankha Ghosh | Literature and Education | West Bengal |
| 29. | Late Shri K. Raghavan Thirumulpad | Medicine - Ayurveda. | Kerala* |
| 30. | Late Dr. Keki Byramjee Grant | Medicine - Cardiology | Maharashtra * |
| 31. | Late Shri Dashrath Patel | Art | Gujarat * |

| Sl.No. | Name | Discipline | State / Domicile |
| --- | --- | --- | --- |
| 1. | Ms. Neelam Mansingh Chowdhry | Art - Theatre | Chandigarh |
| 2. | Shri Makar Dhwaja Darogha | Art- Chhau Dance | Jharkhand |
| 3. | Shri Shaji Neelakantan Karun | Art - Film Direction | Kerala |
| 4. | Shri Girish Kasaravalli | Art - Film making | Karnataka |
| 5. | Ms. Tabassum Hashmi Khan alias Tabu | Art - Cinema | Maharashtra |
| 6. | Shri Jivya Soma Mase | Art - Warli Painting | Maharashtra |
| 7. | Guru (Ms.) M.K. Saroja | Art - Dance- Bharatnatyam | Tamil Nadu |
| 8. | Shri Jayaram Subramaniam | Art - Cinema | Tamil Nadu |
| 9. | Pandit Ajoy Chakraborty | Art - Music-Indian Classical Vocal | West Bengal |
| 10. | Smt. Mahasundari Devi | Art - Mithilia/ Madhubani Painting. | Bihar |
| 11. | Shri Gajam Govardhana | Art - Handloom Weaving | Andhra Pradesh |
| 12. | Ms. Sunayana Hazarilal | Art - Dance - Kathak | Maharashtra |
| 13. | Shri S.R. Janakiraman | Art - Carnatic Vocal Music | Tamil Nadu |
| 14. | Shri Peruvanam Kuttan Marar | Art - Chenda Melam- Drum concert | Kerala |
| 15. | Smt. Kalamandalam Kshemavathy Pavithran | Art - Dance - Mohiniattam | Kerala |
| 16. | Shri Dadi Dorab Pudumjee | Art - Puppetry | Delhi |
| 17. | Shri Khangembam Mangi Singh | Art - Traditional Music of Manipur (Pena) | Manipur |
| 18. | Shri Prahlad Singh Tipaniya | Art - Folk Music | Madhya Pradesh |
| 19. | Smt. Usha Uthup | Art - Music. | West Bengal |
| 20. | Smt. Kajol | Art- Cinema | Maharashtra |
| 21. | Shri Irfan Khan | Art- Cinema | Maharashtra |
| 22. | Shri Mamraj Agrawal | Social work | West Bengal |
| 23. | Shri Jockin Arputham | Social work | Maharashtra |
| 24. | Ms. Nomita Chandy | Social work | Karnataka |
| 25. | Ms. Sheela Patel | Social work | Maharashtra |
| 26. | Ms. Anita Reddy | Social work | Karnataka |
| 27. | Shri Kanubhai Hasmukhbhai Tailor | Social work | Gujarat |
| 28. | Shri Anant Darshan Shankar | Public Affairs | Karnataka |
| 29. | Prof. M. Annamalai | Science and Engineering | Karnataka |
| 30. | Dr. Mahesh Haribhai Mehta | Science and Engineering - Agricultural Science | Gujarat |
| 31. | Shri Coimbatore Narayana Rao Raghavendran | Science and Engineering | Tamil Nadu |
| 32. | Dr. (Mrs.) Suman Sahai | Science and Engineering | Delhi |
| 33. | Prof.(Dr.) E.A. Siddiq | Science and Engineering - Agricultural Science | Andhra Pradesh |
| 34. | Shri Gopalan Nair Shankar | Science and Engineering - Architecture | Kerala |
| 35. | Shri Mecca Rafeeque Ahmed | Trade and Industry | Tamil Nadu |
| 36. | Shri Kailasam Raghavendra Rao | Trade and Industry | Tamil Nadu |
| 37. | Shri Narayan Singh Bhati | Civil Services | Andhra Pradesh |
| 38. | Shri P K Sen | Civil Services | Bihar |
| 39. | Ms. Shital Mahajan | Sports - Adventure Sports- Para Jumping | Maharashtra |
| 40. | Ms. Nameirakpam Kunjarani Devi | Sports - Weightlifting | Manipur |
| 41. | Shri Sushil Kumar | Sports - Wrestling | Delhi |
| 42. | Shri Vangipurapu Venkata Sai Laxman | Sports - Cricket | Andhra Pradesh |
| 43. | Shri Gagan Narang | Sports - Shooting | Andhra Pradesh |
| 44. | Smt. Krishna Poonia | Sports - Discus Throw | Rajasthan |
| 45. | Shri Harbhajan Singh | Sports - Mountaineering | Punjab |
| 46. | Dr. Pukhraj Bafna | Medicine - Padeatrics | Chhattisgarh |
| 47. | Prof. Mansoor Hasan | Medicine- Cardiology | Uttar Pradesh |
| 48. | Dr. Shyama Prasad Mandal | Medicine - Orthopaedic | Delhi |
| 49. | Prof. (Dr.) Sivapatham Vittal | Medicine - Endocrinology | Tamil Nadu |
| 50. | Prof. (Dr.) Madanur Ahmed Ali | Medicine - Gastroenterology | Tamil Nadu |
| 51. | Dr. Indira Hinduja | Medicine - Obstetrics and Gynaecology. | Maharashtra |
| 52. | Dr. Jose Chacko Periappuram | Medicine - Cardio-Thoracic Surgery. | Kerala |
| 53. | Prof. (Dr.) A. Marthanda Pillai | Medicine - Neurosurgery | Kerala |
| 54. | Shri Mahim Bora | Literature and Education | Assam |
| 55. | Prof. (Dr.) Pullella Srirama Chandrudu | Literature and Education- Sanskrit | Andhra Pradesh |
| 56. | Dr. Pravin Darji | Literature and Education | Gujarat |
| 57. | Dr. Chandra Prakash Deval | Literature and Education | Rajasthan |
| 58. | Shri Balraj Komal | Literature and Education | Delhi |
| 59. | Mrs. Rajni Kumar | Literature and Education | Delhi |
| 60. | Dr. Devanooru Mahadeva | Literature and Education | Karnataka |
| 61. | Shri Barun Mazumder | Literature and Education | West Bengal |
| 62. | Dr. Avvai Natarajan | Literature and Education | Tamil Nadu |
| 63. | Shri Bhalchandra Nemade | Literature and Education | Himachal Pradesh |
| 64. | Prof. Riyaz Punjabi | Literature and Education | Jammu and Kashmir |
| 65. | Prof. Koneru Ramakrishna Rao | Literature and Education | Andhra Pradesh |
| 66. | Ms. Buangi Sailo | Literature and Education | Mizoram |
| 67. | Prof. Devi Dutt Sharma | Literature and Education | Uttarakhand |
| 68. | Shri Nilamber Dev Sharma | Literature and Education | Jammu and Kashmir |
| 69. | Ms. Urvashi Butalia # | Literature and Education | Delhi |
| 70. | Ms. Ritu Menon # | Literature and Education | Delhi |
| 71. | Prof. Krishna Kumar | Literature and Education | Delhi |
| 72. | Shri Deviprasad Dwivedi | Literature and Education | Uttar Pradesh |
| 73. | Ms. Mamang Dai | Literature and Education | Arunachal Pradesh |
| 74. | Dr. Om Prakash Agrawal | Others - Heritage Conservation | Uttar Pradesh |
| 75. | Prof. Madhukar Keshav Dhavalikar | Others - Archeology | Maharashtra |
| 76. | Ms. Shanti Teresa Lakra | Others-Nursing | Andaman & Nicobar |
| 77. | Smt. Gulshan Nanda | Others - Handicrafts promotion | Delhi |
| 78. | Dr. Azad Moopen | Social work | UAE * |
| 79. | Prof. Upendra Baxi | Public Affairs -Legal Affairs | United Kingdom * |
| 80. | Dr. Mani Lal Bhaumik | Science and Engineering | USA * |
| 81. | Dr. Subra Suresh | Science and Engineering | USA * |
| 82. | Prof. Karl Harrington Potter | Literature and Education | USA * |
| 83. | Prof. Martha Chen | Social work | USA * |
| 84. | Shri Satpal Khattar | Trade and Industry | Singapore * |
| 85. | Shri Granville Austin | Literature and Education | USA * |
Courtesy: The Hindu  &  Rediff, PIB