(News) Eco downturn fuels 42% rise in UPSC applicants
News : Eco downturn fuels 42% rise in UPSC applicants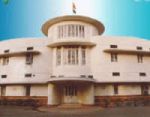 The economic downturn is making the Indian middle class look at government jobs with renewed respect. The number of applicants for the Union Public Services Commission examination this year has seen a rise of 42% — up from last year's figure of 2.8 lakh to a little over 4 lakh.
Apart from the recession, the rise in government salaries after the sixth pay commission and a larger number of vacancies in the services seem to have played a big role in the resurgence. The preliminary examinations will be held on May 17.
UPSC officials and coaching centres agree that the recession is the biggest reason for the renewed interest in the bureaucracy. The two top coaching centres for civil services in the city, Vajiram & Ravi and Sriram's IAS, say a combination of factors has resulted in the surge in applicants — including the relative insecurity in corporate jobs and the government's decision to increase the number of vacancies for civil services by almost 100% this year. The intake was 425 in 2007 which has now been increased to 881.
''This was a much needed step considering that the number of applicants is on the rise,'' said P S Ravindran, director of Vajiram & Ravi.
Courtesy:- Times of India