(IGP) IAS Pre: GS - Geography - Indian Geography Physical: India Physical (Part -3)
Indian Geography Physical
India Physical (Part -3)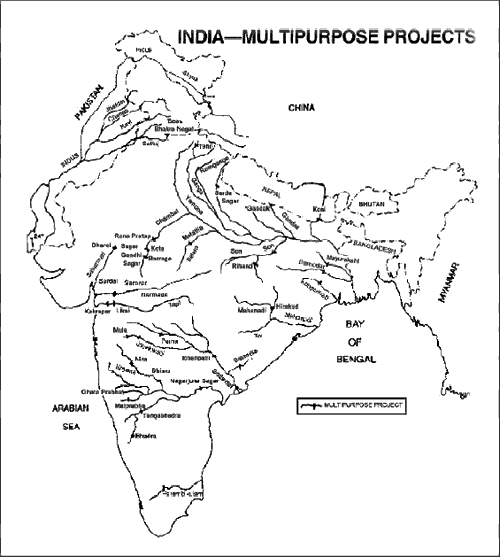 River Valley Projects
PROJECT
RIVER
STATE
PURPOSE
Bhakra Nangal Multipurpose Project.

Bhakra dam: One of the highest gravity in the world.

Govind Sagar Lake (H.P.) is a reservoir.

Satluj

(A tributary of Indus).

Joint venture of Punjab, Haryana and Rajasthan.
Irrigation, hydro electricity.
Thein Dam project
Ravi (A tributary of Indus).
Punjab
Irrigation, hydroelectricity
Dulhasti project
Chenab (A tributary of Indus).
Jammu and Kashmir
Part of the programme of cascade development for irrigation.
Salal project
Chenab (A tributary of Indus).
Jammu and Kashmir
Irrigation.
Beas Project

Sharda Sahayak Project

Beas (A tributary of Indus).

Chuisot stream near Kalabagh

Joint venture of Punjab, Haryana and Rajasthan.

Uttar Pradesh

Hydro electricity

Irrigation, hydroelectricity.

Banasagar project
Son
M.P., Bihar and U.p.
Irrigation
Rihand Scheme Reservoir: Godind Ballabh Sagar (U.P.)
Rihand
Uttar Pradesh
Hydroelectricity for the development of south eastern industrial region of U.P.
Damodar valley multipurpose project

Four dams: Tilaiya and Maithon (on the Barakar River), Konar (Konar River) and Panchet (Damodar River).

Damodar
West Bengal (also shared by Jharkhand).
Flood control, Irrigation, Hdroelectricity.
Mayurakshi project
Mayurakshi
West Bengal
Irrigation, hydroelectricity.
Hirakud, multipurpose Project (world's longest mainstream dam).
Mahanadi
Orissa
Irrigation, hydroelectricity
Poochampad Project
Godavari
Andhra Pradesh
Irrigation.
Jayakwadi Project
Godavari
Maharashtra
Irrigation.
Nagarjuna Sagar
Krishna
Andhra Pradesh
Irrigation, hydroelectricity.
Upper Krishna Project
Krishna
Karnataka
Irrigation (Almatti dam is being constructed.
Tungabhadra multipurpose project
Tungbhadra (A tributary Krishna).
Joint venture of Andhra Pradesh and Karnataka.
Irrigation, hydroelectricity.
Ghatprabha project
Ghatprabha (A tributary of Krishna).
Andhra Pradesh and Karnataka.
Irrigation
Malprabha project
Malprabha (A tributary
of Krishna).
Karnataka
Irrigation
Bima project
Bhima
Maharashtra
Irrigation
Mettur project
Cauvery
Tamil Nadu
Hydroelectricity
Shivasamudram Scheme
On Cauvery Falls
Karnataka
Hydroelectricity
Kundah project
Kundah
Tamil Nadu
Hydroelectricity
Sharavati Project
Sharavati (near Jog
falls)
Karnataka
Hydroelectricity
Chambal project

(Gandhi Sagar Dam (M.P.), Rana Pratap Sagar and Jawahar Sagar Dam or Kota Dam.

Chambal (A tributary of
Rajasthan, Madhya Pradesh
Irrigation, hydroelectricity
Kakrapara Project
Tapi
Gujarat
Irrigation
Ukai Project
Tapi
Gujarat
Irrigation
Sardar Sarovar Project
Narmada
Gujarat, M.P. Rajasthan Maharashtra
Irrigation, hydroelectricity
Tawa project
Tawa (A tributary of Narmada.
Madhya Pradesh
Irrigation
Mahi Project (Jamnalal Bajaj Sagar)
Mahi
Gujarat
Irrigation
Matatila project
Betwa
Uttar Pradesh, Madhya Pradesh
Irrigation, hydroelectricity
Food Crops Distribution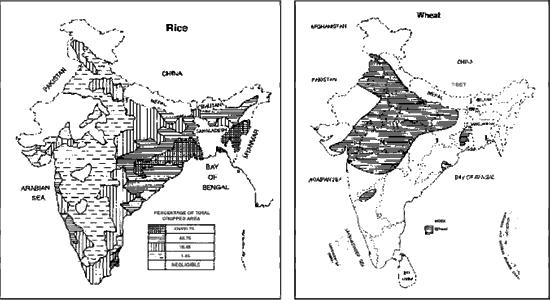 RICE (KHARIF CROP)
WHEAT RABI CROP)
Conditions Required
Distribution
Conditions Required
Distribution
Temperature : 100 to 210C during wosing 350 to 370C during harvest.

Rainfall : 100 to 200 cm.
Soil: Heavy clay and Clayey loam is best suited.

West Bengal
U.P.
Andhra Pradesh
Punjab
Tamil Nadu
M P
Orissa
Bihar
Assam
Karnataka
Maharashtra
Haryana
Kerala

Temperature : 10-150C (winter) 210 - 260C (summer)

Rainfall : 15 to 75 cm.
Soil: Well drained fertile, friable loams, and clayey laoms.

Uttar Pradesh
Punjab
Haryana
Madhya Pradesh
Rajasthan
Bihar
Gujarat
Maharashtra
Millets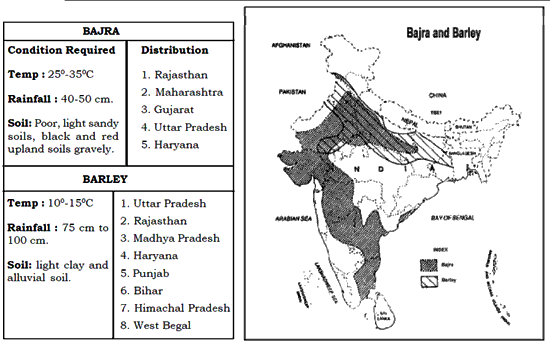 Cash Crops

JUTE

Second important fibre crop of India, crop of hot and humid climate.

Temperature: 240C- 350C

Rainfall: heavy rainfall of above 150cm with 80-90 percent of relative humidity.

Soil: Alluvial soil also grown in light sandy or clayey loams.

West Bengal (70 percent of the production, over 60 percent of the area.
Bihar
Assam
Orissa
U.P.
Maharashtra
Kerala (Coastal areas)

SUGAR CANE

Temperature: 200C - 260C

Rainfall: 150 cm or irrigation facilities with high humidity.

Soil: Deep rich, loamy soils are ideal; black soil is also suitable.

Uttar Pradesh
Maharashtra
Tamil Nadu (highest yield / hectare)
Karnataka
Andhra Pradesh
Gujarat
Bihar
Haryana
Punjab

TOBACCO

Plant of tropical and sub-tropical climates and frost is harmful.

Temperature: 160C- 400C

Rainfall: 50 cm or irrigation facilities.

Soil: well-drained, friable sandy loam.

Gujarat (90 percent of Tobacco from Vadodara and Kheda districts).
Andhra Pradesh (West and East G o d a v a r i , Prakasham, Kurnool and Nellore are the main producing
districts)

Other areas of minor production (a) Uttar Pradesh (b) Karnataka (c) West Bengal.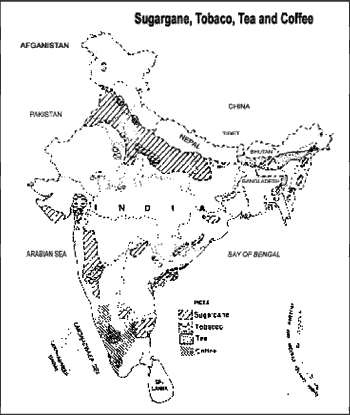 Plantation Crops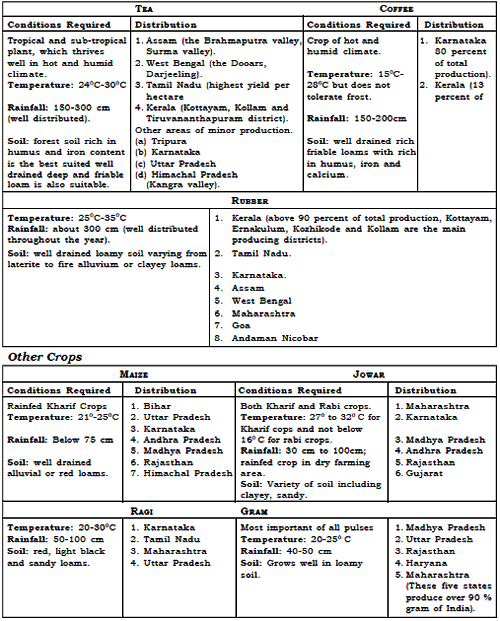 © UPSCPORTAL.COM