(IGP) IAS Pre: GS - Geography - Indian Geography Physical: India Physical (Part -4)
Indian Geography Physical
India Physical (Part -4)
IMPORTANT INDUSTRIES OF INDIA
COTTON TEXTILE INDUSTRY
The oldest and the largest organised modern industry of India.
MANUFACTURING CENTRES
Mumbai largest centre.
Other centres: Nagpur, Amravati,Wardha, Jalgaon, Aurangabad, Pune, Satara, Solapur, and Kolhapur.
Gujarat
Ahmedabad Second largest centre after Mumbai.
Otrher centres: Porbandar, Rajkot, Vadodara Surat.
Madhya Pradesh
Bhopal, Indore, Dewas, Ujjain, Ratlam, Gwalior, Jabalpur etc.
Tamil Nadu
Coimbatore. (Most importatn centre) Other centres - Chennai, Perambur, Salem, Tiruchirapalli,  Madurai, Tirunelvelli, Tuticorin, etc.
West Bengal
Kolkata (most important centre).
Other centres: Howrah, Serampur, Murshidabad, etc.
Uttar Pradesh
Kanpur (largest centre). Other centres: Varanasi, Mirzapur, Lucknow, Agra, Modinagar, Saharanpur etc.
Rajasthan
Jaipur, Pali, Bhilwara, Kota, Udaipur, Ganganagar.
Karnataka
Bangalore, Mysore, Mangalore, Chitradurga, Belgaum.
Orissa
Punjab
Amritsar, Dhariwal, Phagwara, Ludhiana.
Kerala
Thiruvananthapuram, Alleppey.
Bihar
Andhra Pradesh
Hyderabad, Secundarabad, Rajamundry, East Godavari and Udayagiri.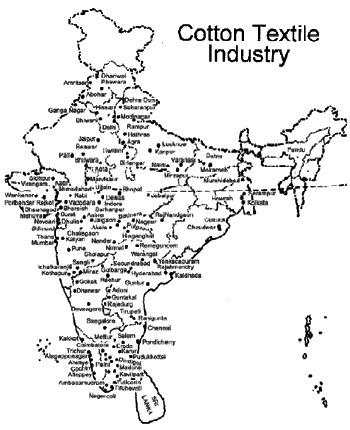 JUTE TEXTILE INDUSTRY
First large scale industry was established in 1855 at Rishra, (near Serampur) in West Bengal.
This industry suffered a great because of partition in 1947 becasue 80 percen of Jute producing areas went to Bangladesh while almost all the Jute mills remained in India.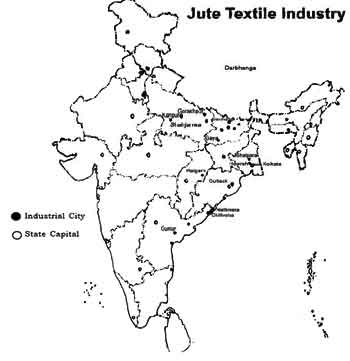 West Bengal (56 mills)
Kolkata.
Other centres: Rishra, Serampore, Titagarh etc. mainly along the both banks of Hooghli river.
Andhra Pradesh
Vishakhapatnam, Eluru, Guntur and Ongole.
Other important states:
Uttar Pradesh
Kanpur, Gorakhpur and Shahjawan.
Bihar
Darbhanga, Samastipur, Purnea, Katihar and Gaya.
WOOLEN TEXTILE INDUSTRY
One of the oldest textile Industries of India. The first woolen mill was started at Kanpur in 1876.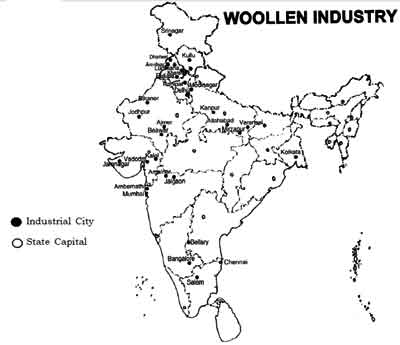 MANUFACTURING CENTERS

Punjab

Dhariwal (largest centre).
Other centres: Amritsar, Ludhiana and Patiala.

Maharashtra

Mumbai (industry based on imported wool).
Other Centres: Jalgaon, Ambernath.

Uttar Pradesh

Kanpur, largest Woolen Textile centre in the state).
Other Centres: Modinagar, Allahabad, Varanasi and Mirzapur.

Gujarat

Jamnagar, Kalol, Vadodara.

Other Important states:

Karnataka

Tamil Nadu

Jammu and Kashmir

Himachal Pradesh

West Bengal
SILK AND SYNTHETIC FIBRE INDUSTRIES
About 98 percent of the total production comes fromKarnataka,West Bengal and Jammu and Kashmir.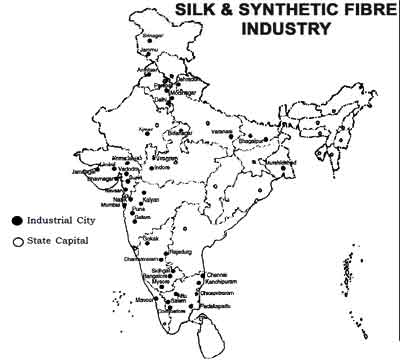 MANUFACTURING CENTERS

Karnataka

Bangaloe, Kolar and Mysore.

West Bengal

Murshidabad, Bankura, 24 Parganas and Birbhum districts.

Jammu and Kashmir

Srinagar (big centre).
Other Centres: Baramulla, Anantnag, Udhampur, Jammu.

Other Important states:

Bihar

Bhagalpur (famous for silk industry), Patna, Gaya.

Jharkhand

Madhya Pradesh

Birlanagar, Viragram and Indore.

Uttar Pradesh
CHEMICAL INDUSTRIES
Fourth largest set of industries after textiles, iron and steel and engineering industries.
Products of chemical industry are more multifarious than of any other industries of equal importance.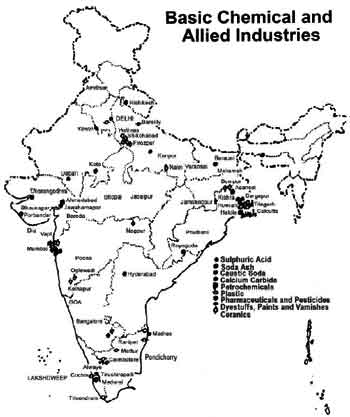 © UPSCPORTAL.COM