(IGP) IAS Pre: GS - Geography - Indian Geography Physical: India Physical (Part -5)
Indian Geography Physical
India Physical (Part -5)
MANUFACTURING CENTERS
West Bengal
Bengal Iron Work company
Steel was first manufactured by modern methods at Kulti (near Asansol in West Bengal).
Indian Iron and Steel Company (IISCO)
Bengal Iron Work Company who taken over by IISCO. It was set up at Burnpur in 1919 and comprises three units which are located at
Hirapur-Hirapur produces pig iron.
Kulti - making steel.
Burnpur - steel rolling mill.
This company was nationalised in 1972.
Durgapur Steel Plant
It was set up in Burdwan district with the help of U.K.
Influenced by the availability or readymarket and proximity to Hooghly engineering works.
Jharkhand
Tata Iron and Steel Company (TISCO)
Located at the confluence of Subanarekha and Kharkai River at Sakchi (now Jamshedpur).
Oldest and the largest iron and steel centre of India.
Bokaro Steel Plant:
Located near the confluence of Damodar and Bokaro river with Soviet Collaboration.
Orissa
Rourkela Stee Plant
Established in Sundergarh district with the help of West Germany.
It is the only Plant in India where steel is produced by L.D. conversion process.
Daittari Steel Plant
Located about 120 km away from the sea coast.
It is shore based plant and is served by the Paradip port.
Gopalpur Steel Works
Located about 100 km southeast of Bhubaneswar, a unit TISCO.
Chhattisgarh
Bhilai
Discovery of coking coal in Korba encouraged the government to set up steel plant at Bhilai with the help of Russia.
Karnataka
Visveswaraya Iron and Steel Limited (VISL)
Located at Bhadravati in Shimoga district.
Only integrated Iron and steel plant located outside the iron and cola regions of India.
Vijay Nagar Steel Plant
Located at Tornagal near Hospet area of Bellary district,, specialises in making mild steel.
Andhra Pradesh
Vishakhapatnam-Vizag Steel Plant
First shore based steel plant, which is part of the govt.'s policy of industrial decentralisation.
Kothagudem
Steel plant was set up with the assistance of UNDP, which produces sponge iron.
Tamil Nadu
Salem Steel Plant
Produces world class stainless steel and even produces export quality steel.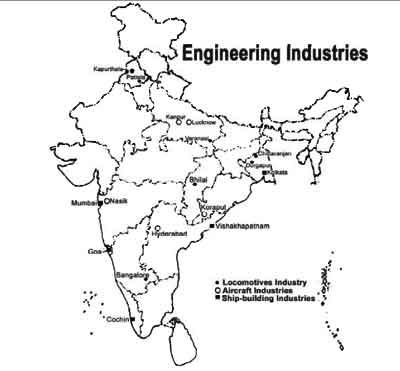 Rail Equipments
Locomotives
Burdawan district (West Bengal) - The Chittaranjan Locomotive Works is situated.
Varanasi (U.P.): The Diesal Locomotives Works is situated.
Patiala (Punjab): Diesel Component Works has been set up for manufacturing and repairs of components of diesel locomotives and sub assemblies.
Bangalore (Karnataka): A wheel and axle plant was set up to cut down the imports.
Jamshedpur (Jharkhand) Tata Engineering and Locomotive Co. Ltd. (TELCO) is situated.
Coaches
Perambur (Tamil Nadu): Integral Coach factory, which produces all types of coaches, is located.
Kapurthala (Punjab): Rail coach factory.
Bhilai (Chhattisgarh): Rails and sleeper bars are manufactured.
Durgapur (West Bengal): Wheels, tyres, and axles are manufactured.
Some others rail coaches and wagons manufacturing private companies are located at Calcutta, Bangalore.
Air Craft Industry
Bangalore (Karnataka) : The first aircraft industry was set up in 1940.
Different parts of aircrafts are manufactured at different places due to security reasons.
| | | |
| --- | --- | --- |
| STATE | CITY | MANUFACTURERS |
| Uttar Pradesh | Lucknow | Lucknow Frames. |
|   | Kanpur | Kanpur |
| Orissa | Koraput | Engines. |
| Andhra Pradesh | Hyderabad | Electronic equipment. |
| Maharashtra | Nasik | Air frame. |
| Karnataka | Bangalore | Main centre of Hindustan Aeronautics Limited (HAL). |
SHIP BUILDING INDUSTRY
MAIN CENTRES
PUBLIC SECTOR
Kolkata (West Bengal)
Vishakhapatnam (Andhra Pradesh)
Cochin (Kerala)
Mumbai (Maharashtra)
Goa
The Garden Reach workshop.
Hindustan Shipyard Ltd.
Cochin Shipyard Ltd.
The Mazgaon Dock.
Goa shipyard.
ELECTRONIC MACHINERY AND EQUIPMENT MAKING INDUSTRY
This industry is divided into
Heavy Electrical Equipmet Industry and
Light Electrical Goods Industry.
Bharat Heavy Electrical Ltd. (BHEL) is an important milestone in the development of heavy electrical equipment indusry.
MANUFACTURING CENTRES
Uttranchal
Uttar Pradesh
Madhya Pradesh
Andhra Pradesh
Tamil Nadu
Karnataka
Other Industries are located at
Kolkata (West Bengal).
Mumbai, Pune (Maharashtra).
Chennai, Coimbatore (Tamil Nadu).
Bangalore (Karnataka).
Sonipat (Haryana).
Patiala (Punjab).
MACHINE TOOLS
BANGALORE (Karnataka): Two units of the Hindustan Machine Tools (H.M.T.) are located, which are the largest manufacturers of machine tools.
Other units of HMT are located at
Pinjore (Haryana)
Kalamassery (Kerala).
Hyderabad (Andhra Pradesh).
Ajmer (Rajasthan)
Srinagar (Jammu and Kashmir)
Thermal Power Projects
LOCATION
NAME OF PROJECTS
Jammu and Kashmir
Kalakote.
Punjab
Bhatinda, Roopnagar.
Haryana
Faridabad, Panipat, Yamunanagar.
Rajasthan
Kota, Palana, Banswara, Sawai Madhopur Anta (Gas
based project).
Gujarat
Dhuvaran,Gandhinagar, Kawas (Gas based prject).
Uttar Pradesh
Obra (Mirzapur), Rihand, Hardwaganj (Aligarh), Dadri
Auraiya (gas based project).
Bihar
Barauni.
Jharkhand
Bokaro, Tenughat, etc.
Madhya Pradesh
Korba (Bilaspur), Satpura etc.
Orissa
Talcher.
Maharashtra (largest producer of thermal power in India).
Trombay, Uran Gas Turbine, Bhusawal, etc.
Andhra Pradesh
Ramagundam, Kothagundam, Vijaywada, Nellore.
Tamil Nadu
Neyveli Mettur, Tuticorin Ennore (Chennai), etc.
Atomic Power Projects
LOCATION
INFORMATION
Tarapur (Maharashtra)

The Tarapur Atomic Powe Station (TAPS).
First nuclear station of India was started in 1989.
Provides electricity to Gujarat and Maharashtra.

Rawat Bhata (Rajasthan).

The Rajasthan Atomic Power Station (RAPS).
Uses natural uranium as fuel, supplies electricity to rajasthan.

Kalpakkam near Chennai (Tamil Nadu).

The Madras Atomic Power Station (MAPS).
Electricity is provided to Chennai.

Narora in Bulandsahar district (Uttar Pradesh).

The Narora Atomic Power Station (NAPS) provides electricity to Uttar Pradesh and Delhi.

Kakrapara (Gujarat).

The Kakrapara Atomic Power Station (KAPS).

Kaiga (Karnataka)

The Kaiga Atomic Power Station.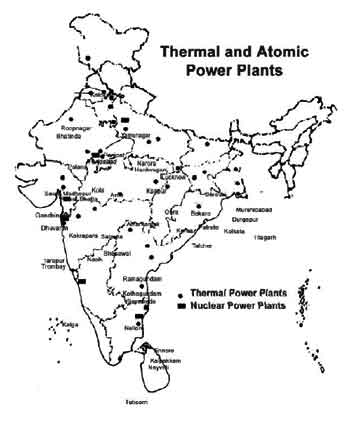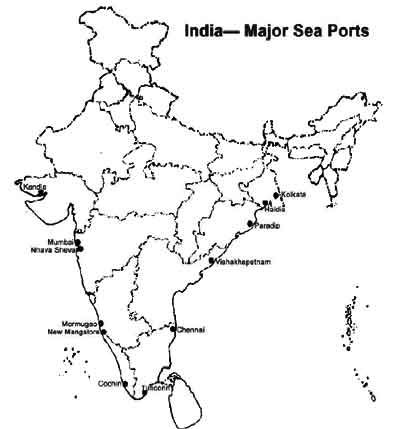 © UPSCPORTAL.COM