(IGP) IAS Pre: GS - Geography - World Geography General: Europe
World Geography General
Europe
Introduction
Latitude : 34051'N to 81047'N
Longitude : 24033'W to 69003'E
Population : 60 corers
Area: 1,04,98,000 sq. km.
Size : Second smallest continent in the world in area, after America.
Situation : Europe is situated between Ural Mountains in the east and the Atlantic Ocean in the west, in the west of Asia, and north of Africa. To the north of Europe lies Arctic Ocean, to the south lies the Mediterranean Sea, the Black Sea and the Caucasus Mountains and to the East Ural Mountains and the Caspian Sea.
Europe and Asia as one common landmass, is known as 'Eurasia'.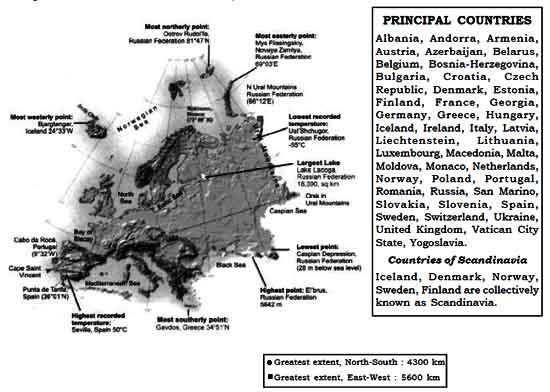 EUROPE : PHYSICAL
Important Gulfs and Bays
| | | |
| --- | --- | --- |
| NAME | SEPARATES | PART OF SEA OR OCEAN |
| Gulf of Riga | Estonia and Latvia | Baltic Sea |
| Gulf of Finland | Finland and Estonia | Baltic Sea. |
| Gulf of Bothnia | Sweden and Finland | Baltic Sea. |
| English Channel | Britain and Spain | Atlantic Ocean |
| Bay Biscay | France and Spain | Atlanic Ocean |
| Gulf of Lions | Lies to the south of France | Mediterranean Sea. |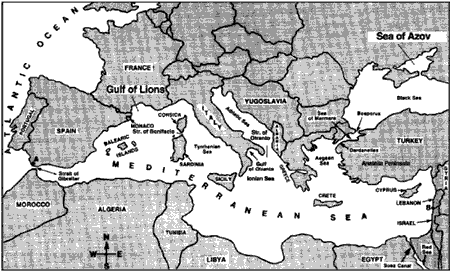 Important Seas
NAME
LOCATION, (PART OF OCEAN)
RIVERS DRAINING INTO
THEM
Mediterranean Sea
Separates Europe from Africa, Strait of Gibralter connects it to the Atlantic Ocean.
Tiber (Italy)
Rhone (France)
Ebro (Spain)
White Sea
North of Russia, Arctic Ocean
Mezen, N. Divina, and Onega
Baltic Sea
North Sea

Wide continental shelves of North Sea, called as Dogger Bank is one of the most productive regions for fishing in the world.
North sea is connected to the Baltic Sea through Kiel Canal.

Atlantic Ocean

East of the United Kingdom, Atlantic Ocean

Vistula and Oder

Elbe and Weser (Germany) and Rhine (Netherland)

Irish Sea
Lies between Great Britain and Ireland, Atlantic Ocean.
 
Adriatic Sea
North east of Italy, Mediterranean Sea
Po (Italy.)
Ionian Sea
Lies between Greece and Italy, Mediterranean Sea.
 
Balck Sea
Separates Europe from Asia
Dnepr, Dnster, Danube
Sea of Azov
South east of Ukraine, North of Black Sea
Don.
Sea of Marmara
South westof Black Sea
Connects Black Sea and Aegean Sea
Aegean Sea
Lies between Greece and Anatolia Peninsula (Turkey), Mediterranean Sea.
 
Important Straits
NAME
SEPARATES
CONNECTS
Strait of Gibralter

(Known as 'Key to the
Mediterranean').

Europe and Africa
Mediterranean Sea with Atlantic Ocean.
Strait of Bonifacio
Sardina islands. (Italy) and Corsica (France)
Tyrhenian Sea with Mediterranean Sea.
Strait of Messina
Sicily and Peninsular Italy
Tyrhenian Sea with Mediterranean Sea.
Strait of Otranto
Italy and Balkan Peninsula
Adriatic Sea with Ionian Sea.
Bosporus Strait
Istanbul and Anatolia Peninsula (Turkey)
Black Sea with Sea of Marmara.
Strait of Kerch
Kerch (Ukraine) and Russia
Sea of Azov with Black Sea.
Dardanelles Strait
Balkan Peninsula and Antolia Peninsula
Sea of Marmara with Aegean Sea.
Important Rivers of Europe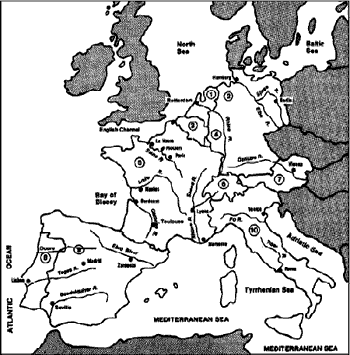 Rivers of Italy
Outflow
City Located
Po

The principal lowland of Italy is the fertile northern plain formed by the country's longest river the Po (.652 km) and its tributaries.
South West flowing river of Italy

Adriatic Sea
Venice (Italy)
Tiber
Delta : Cuspate
Mediterranean Sea
Rome (Italy)
Garrone
Bay of Biscay
Bordeaux
Loire
Bay of Biscay
Nantes.
Seine
English channel
Paris, Rouen, and Le Havre.
| | |
| --- | --- |
| NORTH FLOWING RIVERS FROM WEST TO EAST | INFOMATION |
| Onega, N. Dvina, and Mezen | Flows through European Plain into theWhite Sea. |
SOUTH EAST FLOWING RIVER
SOURCE
OUTFLOW
CITY LOCATED
Volga (Europe's longest river, 3,690km)
Valdas Plateau
Caspian Sea
Saratov, Volgograd
Don
Tula (Black Sea)
Sea of Azov Rostov.
 
Dnepr
Valdai Hill
Black Sea
Kiev, Dnepropetrovsk
Dnester
--
Black Sea
--
Danube

If flows in Middle Europe through Austria, Slovakia Hungary and the northern part of Yogoslavia and Romania.
It is the only river in the world which touches or corsses right countries.

Black Forest (Germany)
Black Sea
Black Sea Linz, Viena , Budapest, Belgrade
Important Mountains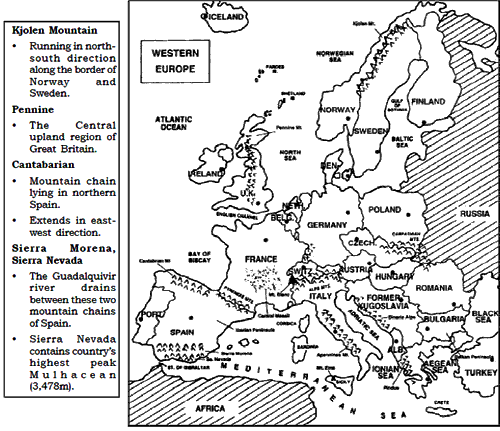 MOUNTAIN VESUVIUS

A volcanic mountain lying in Neples (Italy.)

APPENNINES

Mountain chain extending from the western Alps to the southern tip of mainland in Italy.
An example of limestone hillls, which is well known for wine (Asti) in piedmont district of Italy.

VOSGES

Lies in France and separate it from Italy.
An example of Block mountain.

ALPS

Lies in the south-eastern part of France and separates it from Italy.
Mount Blanc (4,807 m) is the highest peak of Alps, lies in France.
The Alps acts as giant watershed in Switzerland.

MOUNT ETNA

A volcanic mountain of Sicily (Italy.)
Example of parasitic volcanic cone.

DINARIC ALPS

Lies along the north-east coast of Adriatic Sea.

CARPATHIAN

Runnin in northwest-southeast direction in the countries of Poland, Ukraine and Romania.

BALKAN

Runs in east-west direction in Bulgaria.

PINDUS

The barren limestone chain, runnine north west-southeast and rising to 2,500 m.
Constitutes the principal mountian chain of Greece.

URAL

Average height between 500 and 800 m.
Forms the natural boundary between Asia and

CAUCASUS

Lies to the north of Georgia, Azerbaijan.
Separates Asia from Europe.
Mount Elbrus in the Caucasus is the highest mountain peak of Europe.

BLACK FOREST

Block mountain of Germany.

MOUNT STROMBOLI

An example of composite volcanic cone.
Known as the 'Light house of the Mediterranean'.
Important Peninsulas
NAME
INFORMATION
Iberian Peninsula or Spanish Plateau
Surrounded by Bay of Biscay, Mediterranean Sea and Atlantic Ocean.
Balkan Peninsula

Kola Peninsula

Surrounded by Black Sea, Aegean Sea, and Adriatic Sea.
Consist of Bulgaria, Macedonia, Albania and Greece.
Surrounded by White Sea and Arctic Ocean in Russia.

© UPSCPORTAL.COM