(News) POOR Performance by Govt Run UPSC, Civil Services Coaching Centers
---
POOR Performance by Govt Run UPSC, Civil Services Coaching Centers
---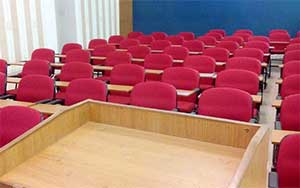 The civil services examinations results announced by the Union Public Service Commission (UPSC) recently saw dozens of young men and women from the northern states script success stories. While the craze for the elite Indian Administrative Service (IAS), Indian Police Service (IPS) and other allied services has led to the mushrooming of professional institutes, the state governments and universities in Punjab, Haryana and Himachal Pradesh have also been running centres to provide coaching to aspirants, especially those from the underprivileged sections, aiming to crack the civil services exam. Barring one successful candidate at the Panjab University coaching institute, these centres have drawn a blank this time. A few have even been nonstarters.
While the common gripe of the institute directors is the weak academic foundation of aspirants, the students have to make do with a guest faculty. The aspirants manage to get through other competitive exams such as banking and postal services but a career in the civil services remains elusive.
Hindustan Times reporters visited the state-funded coaching centres in the region to run a reality check and ascertain the reasons for their belowpar performance.
Courtesy: Hindustan Times