Railway Budget 2015 Analysis for Civil Services Aspirants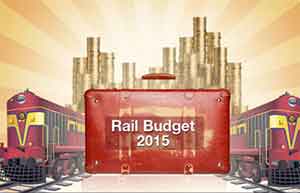 ---
Railway Budget by Honorable Suresh Prabhu
---
How Railway budget is important for UPSC aspirant-
Railway mentioned as part of infrastructure in GS paper 3. Knowing the important bottlenecks and advantages with railway will help you to write better answer and also to integrate with other infrastructure issues. The committee and the recommendation (which added at the end of the report) might be asked in prelims.
Focus- Common man, putting speed, scale, service and safety
Introduction: Railway makes the cheapest and most convenient way of communication on land. It's having significance of moving goods and people. The major problem associated with the movement which is not up to the mark. Goods and passenger trains having less than 25 km/hr average speed which creates hurdle in doing business. Along with the speed, the efficiency and clearance requirement also have additional delay. Agriculture product is difficult to transport because of shelf life issue of the product. The issue of safety has also a fear impact on the people.
Other major issues are chronic underinvestment in Railways which led to congestion and over-utilization, cleanliness, ticketing, catering, technological advancement, train capacity. The better and faster service will help the economy and customer experience.
Some important Data-
Plan outlay- 1 lakh crore for 2015-16.
8.5 lakh crore to be invested in next five year
Increase freight rates on coal, iron ore and steel. (may have some inflationary impact)
Inter-metro trains with high speeds planned in line with Japan and China "Bullet Train". The White Paper on the status of Mumbai-Ahmedabad high speed corridor, Chennai-Bengaluru-Mysuru high speed corridor referred and financial viability is being evaluated for their implementation.
Investment and well defined priorities will bring the Railway on virtuous cycle. The money requirement will be managed by the budgetary support, the market borrowing, and from World Bank, Asian Development Bank (ADB), International Finance Corporation (IFC).
Vicious Cycle to Virtuous Cycle- Greater investment will generate higher revenues and better service delivery. This will help in improving the railway from the current vicious cycle of under-investment which has caused deprived capacity augmentation and so the quality of services.
Hinterland connectivity- Vast tracts of hinterland waiting for rail connectivity which will bring the hinterland (A remote and undeveloped area) in main stream economy. (Also important with respect to port development.)
This year Railway budget has special mention of Gandhi circuit for the promotion of tourism which have great potential for job creation and economic development of a region. Indian Railway will join the hand to make Incredible India by the effort of Incredible Rail.
"India has fourth largest railway networks in world's comprising 115,000 km."
Building partnership with various stakeholders; standard for governance; leveraging additional resources; various strategies for long, medium and short term; revamping management (operation) practice will be the 5 drivers of execution strategy.
11 major thrust areas for the development and measures to enhance customer experience.
Cleanliness- in line with SBA (Swachch Bharat Abhiyan). Method to apply- Integrated cleaning, new toilets, 'waste-to-energy' conversion plants.
Bed linen- disposable bed rolls,
Helpline and grievance Redressal- 138 and 182 respectively.
Ticketing
Catering
Surveillance
Entertainment
Station Facility
Train capacity augmentation
Comfortable travel- special emphasis to senior citizen, women, and differently-abled persons.
Expand Rail capacity- by increasing daily passenger capacity, increasing annual freight capacity, and increasing track length.
"There are two UNESCO World Heritage Sites on Indian Railways: The Chatrapati Shivaji Terminus and the Mountain Railways of India."
Technological addition: Surveillance cameras (which has got attention on the privacy issue of women), Geo-spatial technology (audio-visual warning at unmanned level crossing), Train collision Avoidance system.
Background work:
Sam Pitroda Panel Report on Railways Modernization – Over 8 lakh crore to be spend to modernize the railway
Kakodkar committee report on High Level Safety Review Committee (Railways)- Recommended 1, 00,000 crore plan on railway safety. Also to implement the Advance Signalling System, Elimination of All Level Crossings (manned and unmanned both), much safer LHB design coaches, Maintenance of safety related infrastructural
Mains Question:
Infrastructure is crucial for the development of a nation. Discuss the various bottlenecks in the Indian Railway development and strategy to overcome.

Railway budget 2015 has made an attempt to meet the aspirations of common man. Discuss the various aspirations of common man and the meeting ground created by Railway budget.
Click Here to read Economic Survey 2015 Analysis for Civil Services Aspirants
 
Click Here to read Budget 2015-16 Analysis for Civil Services Aspirants