Sardar Patel Institute of Public Administration (SPIPA)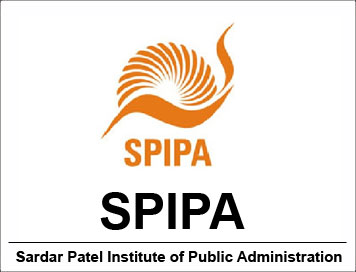 Sardar Patel Institute of Public Administration (SPIPA)
About:
SPIPA was established by the Government of Gujarat in 1962 as the apex Training Institution of the state. The Institute was renamed as Sardar Patel Institute of Public Administration in 1974. It became on autonomous body (registered under the Societies Registration Act, 1860) in October 2004, so as to gain that essential flexibility in fulfilling its role and meeting the expectations of the State Government.
OverviewNamed after the Iron Man of India, the Sardar Patel Institute of Public Administration, popularly known as SPIPA, was established as an institution for training government functionaries. The Institute is strongly committed to development of human capital. It provides state-of-the-art training in public administration, rural development, local self government, disaster management and related areas so as to optimize the competence of Government employees and, thereby, helps realize the endeavor of ideal governance.
SPIPA derives inspiration from the Ashoka Chakra, the symbol of ideal governance. The Chakra has 24 spokes, each of which stands for a vital characteristic of good governance.
TRAINING PROGRAMS:
Foundation Courses
Edps (Executive Development Programs)
Government Of India Sponsored Programs
Ccc + Training
Customized Training Programs
Training In Effectively Implementing The Rti Act
Departmental Exams
Contact Details:
ADDRESS
Sardar Patel Institute Of Public Administration
Opp. "ISRO", Satellite Road, Ahmedabad-380 015
PHONE 079-26747612 / 7636 / 1879 / 1956
FAX 079-2676 1512, 079-2674 9048
Website: http://spipa.gujarat.gov.in
Courtesy: Sardar Patel Institute of Public Administration (SPIPA)