Key to success, sense of compassion and mission
Key to success, sense of compassion and mission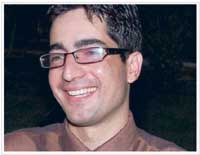 True success goes beyond achieving something for oneself because unless success results in contributing meaningfully to the society, it would amount to very little.

This was observed by IAS topper Dr Shah Faesal from Kashmir who was at the Srimanta Sankardev Kalakshetra today to attend an interaction session with school and college students organized by the Regional Institute of Science and Technology, an engineering college run by ERD Foundation.

Dr Faesal who scripted a success story in the face of heavy odds, said that passion was the key to success but that would not be complete without a sense of 'compassion and mission' – more so in the context of India which was grappling with the scourge of all-pervasive poverty, squalor and corruption.

"Every success story begins with a dream and you need to put in that extra effort to realize the dream. Have belief in your abilities, and nothing will be impossible for you…getting into the IAS or even topping it is not such a big deal. I would like to urge all of you to think even bigger – like becoming a top scientist or a litterateur, a world-class athlete, or a Nobel Laureate," Dr Faesal said.

The 27-year-old IAS topper felt that to get into the coveted IAS, hard work and perseverance were critical. "Money should not be a constraint if the will is there. Two of my friends from extremely humble backgrounds have made it to the IAS along with me," he said, adding that one years' preparation was enough for IAS exams.

Dr Faesal who hails from a remote area of Kupwara district in Kashmir and whose father was a victim of insurgency, feels that the tendency of the youth to be influenced by any philosophy without questioning its worth had been one of the causes of militancy.

"From my personal interaction, I have found out that they are misguided youths with a vague idea of what they are doing. My advice to you is 'do not accept anything – any ideology — without questioning,'" he said.

An MBBS graduate, Dr Faesal said that he opted for IAS as it gives a chance to serve the people and at the same time to be in the decision-making process.

According to Dr Faesal, the biggest challenges confronting the nation were poverty and lack of access to health care and education besides corruption. "Poverty and hunger constitute the biggest challenge, and together with widespread corruption they form a vicious cycle. As an administrator, my priority would be to tackle these two scourges. I will work for integration, peace, development and communal harmony," he said.

Answering queries from eager students, Dr Faesal said that for cleansing the system, it was imperative that good people must come to the system. "The system needs committed people who cannot sell their conscience, and they have to be young men and women from amongst you. If you are to set things in order you must be prepared to swim against the current," he said.
Read more..
Courtesy: Assamtribune.com